The Landmark Xenophon's Anabasis (Hardcover)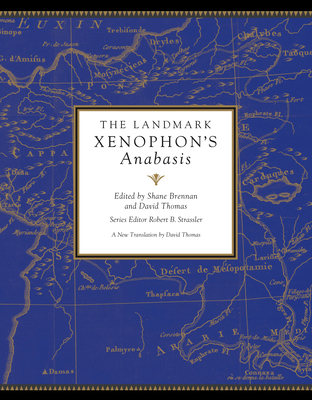 Description
---
The Landmark Xenophon's Anabasis is the definitive edition of the ancient classic—also known as The March of the Ten Thousand or The March Up-Country—which chronicles one of the greatest true-life adventures ever recorded.
 
As Xenophon's narrative opens, the Persian prince Cyrus the Younger is marshaling an army to usurp the throne from his brother Artaxerxes the King. When Cyrus is killed in battle, ten thousand Greek soldiers he had hired find themselves stranded deep in enemy territory, surrounded by forces of a hostile Persian king. When their top generals are arrested, the Greeks have to elect new leaders, one of whom is Xenophon, a resourceful and courageous Athenian who leads by persuasion and vote. What follows is his vivid account of the Greeks' harrowing journey through extremes of territory and climate, inhabited by unfriendly tribes who often oppose their passage. Despite formidable obstacles, they navigate their way to the Black Sea coast and make their way back to Greece.
 
This masterful new translation by David Thomas gives color and depth to a story long studied as a classic of military history and practical philosophy. Edited by Shane Brennan and David Thomas, the text is supported with numerous detailed maps, annotations, appendices, and illustrations. The Landmark Xenophon's Anabasis offers one of the classical Greek world's seminal tales to readers of all levels.
About the Author
---
SHANE BRENNAN is associate professor of history at the American University in Dubai, U.A.E. From 2011 to 2016 he taught ancient history at Mardin Artuklu University in Turkey. He is the author of a travelogue, In the Tracks of the Ten Thousand, and a forthcoming monograph on Anabasis.
 
DAVID THOMAS trained in classics at the University of Oxford, being awarded a Doctorate of Philosophy in 1978 and returning to Xenophontic studies in 2003 on his retirement from his career in finance. He is the author of the introduction to The Landmark Xenophon's Hellenika and serves as a vice president of the Society for the Promotion of Hellenic Studies.
 
ROBERT B. STRASSLER is an unaffiliated scholar who holds an honorary Doctorate of Humanities and Letters from Bard College and is chairman of the Aston Magna Foundation for Music and the Humanities. He lives in Brookline, Massachusetts.
Praise For…
---
"This is an ideal volume for novices of the subject ... or for non-academic readers who enjoy the text for its own merits. . . . The remarkably detailed Index at the end of the volume, a virtually complete index of all people, places, events, and concepts in the Anabasis, will be useful to all readers studying the text. . . . An excellent addition to the study of Xenophon's works. Its comprehensive but readable nature lends itself to students of all backgrounds."
—Bryn Mawr Classical Review

"The Landmark series presents classics of ancient history . . . in a format that makes even annotated editions look skimpy. Maps, photographs, explanatory notes, extracts from related documents, extensive bibliographies and an encyclopedic index consequently add deep context."
—The Washington Post

"In his eyewitness account, Xenophon's engaging descriptions of battles and of the highs and lows of the march are a classic illustration of what ancient writers termed enargeia, "vividness." This quality is one reason why his Anabasis has retained its appeal to readers over the centuries. Another is the book's value as a mine of historical geography. A further element in its enduring appeal is its engagement with themes of interest to Xenophon and his audience. These were topical, but also in many cases timeless. Xenophon does not present his lessons as such, but embeds them in colorful vignettes that are rooted in events that took place on the march.
 
"It is a measure of [Xenophon's] craft as a writer that a reader can enjoy the story without feeling distracted by, or even being aware of, the underlying themes driving it. Likewise the complex narratorial structure of the text, where Xenophon has several presences (author, narrator, the character "Xenophon" and the historical persona behind this figure), does little to disrupt the story. While literary scholars are kept engaged by the text, some identifying themes and concerns in the work, others reading between the lines to uncover hidden meanings, its durability ultimately resides in its telling of a human story of ambition, adversity and triumph.
A classic is classic, Ezra Pound wrote, "not because it conforms to certain structural rules, or fits certain definitions (of which its author had quite probably never heard). It is classic because of a certain eternal and irrepressible freshness." "
—Lit Hub

"Philosopher-warrior Xenophon's 4th-century BCE Anabasis, edited here by historians Brennan and Thomas, comes packed with the Landmark series' trademark commentary and scholarly analysis. Lengthy footnotes supplement each passage, highlighting the traditional summaries of the text compiled by scribes over the ages. This edition features helpful maps too, for students unfamiliar with the distance and geography of the ancient world's city-states. The appendices shed further light on what we know about Xenophon and his relation to Socrates, among other in-depth revelations about Anabasis. The translated prose reads easily and rolls from passage to passage quickly, while the edition's scholarly material brings secondary sources into one tremendous research springboard. The book ends with a glossary and an extensive list of sources cited, which serves as a starting point for further research. History, literature, and classics departments will be grateful for this edition's supplementary teaching and research material."
—Library Journal