El circo de la noche / Night Circus (Paperback)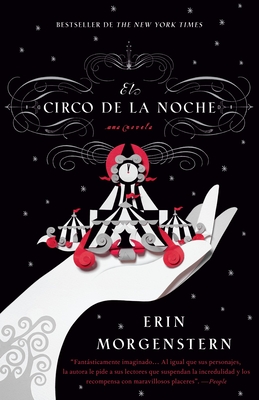 $19.80
This item is not currently available to order.
Fall '12 Reading Group List
---
"The Night Circus can be described in so many ways; It's a love story, a mystery, a fairy tale. However one describes it, it is definitely an exercise in imagination of the finest type. Share the amazement! You will become consumed by this story until the very last word. This is the type of book that should be debated over cups of coffee-grown-cold, long, long into the night! Highly recommended."
— Nancy Simpson-Brice, The Book Vault, Oskaloosa, IA
September 2011 Indie Next List
---
"This elegant debut is a striking example of a nostalgic yet modern fairy tale. When two competing magicians lay a wager as to which can mold the more powerful protege, they opt to use a fantastical traveling wonderland -- The Night Circus -- as the venue for the competition. What is meant to be a battle of magical skills evolves into something much deeper as apprentices Celia and Marco enchant not only the circus around them, but also each other. The real conflict arises when the two realize how the competition is meant to end and they set about trying to change their predestined fate. I adored diving into Morgenstern's mesmerizing world and mourned when I reached the end."
— Whitney Spotts, Schuler Books & Music, Lansing, MI
Description
---
El circo llega sin aviso, sin anuncio. Simplemente aparece. Dentro de sus carpas blancas y negras se vive una experiencia única, un banquete para los sentidos en el que se puede explorar un laberinto de nubes, caminar en un jardín de hielo o  perderse en los ricos aromas de canela y caramelo que flotan en el aire.

Bienvenidos al Circo de los sueños.

Pero detrás de estas maravillosas escenas existe una feroz competencia —un duelo entre dos magos jóvenes, Celia y Marcos, que han sido entrenados desde la infancia para competir en un "juego". Obligados a participar por sus caprichosos amos, sin que ellos lo sepan, éste es un juego en el que sólo uno puede sobrevivir y el circo no es más que el escenario para una extraordinaria batalla de imaginación y voluntad. A pesar de todo, Celia y Marco caen irremediablemente enamorados —un amor profundo y mágico que causa que las luces parpadeen y el ambiente se caliente con solo tocarse las manos. Pero sus amos siguen moviendo los hilos y el amor imprevisto de Celia y Marco les obliga a intervenir, dejando la vida de todos, desde los artistas a los espectadores, en gran peligro.

Divertida, original y fascinante, El circo de la noche es una rica historia de amor que capta la imaginación y encanta los sentidos.
About the Author
---
Erin Morgenstern es una escritora y artista que describe toda su obra como "cuentos de hadas, de una forma u otra." Actualmente vive en Massachusetts.