My Salinger Year (Paperback)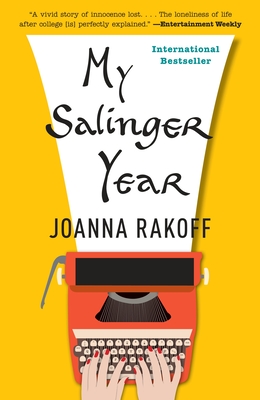 $15.95
Available in our Warehouse: Usually Ships in 1-5 Days
Staff Reviews
---
In this gem of a literary memoir, Joanna Smith Rakoff shares the year she worked for JD Salinger's literary agent in the late 90s. This literary agency carried the heft of Salinger and other literary icons, but was stuck in the past - an office without computers, filled with cigarette smoke, and aging agents negotiating for their clients one typewriter-written contract at a time. Joanna paints this portrait alongside the story of her own life, recently out of graduate school, an aspiring poet lost in young adulthood. I loved this wondrous memoir. 
— Suzanna
Description
---
Keenly observed and irresistibly funny, My Salinger Year is a memoir about literary New York in the late nineties, a pre-digital world on the cusp of vanishing. After leaving graduate school to pursue her dream of becoming a poet, Joanna Rakoff takes a job as assistant to the storied literary agent for J. D. Salinger. Precariously balanced between poverty and glamour, she spends her days in a plush, wood-paneled office--where Dictaphones and typewriters still reign and agents doze after three-martini lunches--and then goes home to her threadbare Brooklyn apartment and her socialist boyfriend. Rakoff is tasked with processing Salinger's voluminous fan mail, but as she reads the heart-wrenching letters from around the world, she becomes reluctant to send the agency's form response and impulsively begins writing back. The results are both humorous and moving, as Rakoff, while acting as the great writer's voice, begins to discover her own.

About the Author
---
Joanna Rakoff's novel A Fortunate Age won the Goldberg Prize for Jewish Fiction by Emerging Writers and the Elle Readers' Prize, and was a New York Times Editors' Choice and a San Francisco Chronicle best seller. She has written for The New York Times, the Los Angeles Times, Vogue, and other publications. She lives in Cambridge, Massachusetts.