My Salinger Year (Hardcover)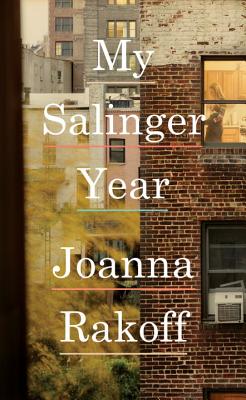 $28.55
Email or call for price.
Staff Reviews
---
In this gem of a literary memoir, Joanna Smith Rakoff shares the year she worked for JD Salinger's literary agent in the late 90s. This literary agency carried the heft of Salinger and other literary icons, but was stuck in the past - an office without computers, filled with cigarette smoke, and aging agents negotiating for their clients one typewriter-written contract at a time. Joanna paints this portrait alongside the story of her own life, recently out of graduate school, an aspiring poet lost in young adulthood. I loved this wondrous memoir. 
— Suzanna
Description
---
Poignant, keenly observed, and irresistibly funny: a memoir about literary New York in the late nineties, a pre-digital world on the cusp of vanishing, where a young woman finds herself entangled with one of the last great figures of the century.

At twenty-three, after leaving graduate school to pursue her dreams of becoming a poet, Joanna Rakoff moves to New York City and takes a job as assistant to the storied literary agent for J. D. Salinger. She spends her days in a plush, wood-paneled office, where Dictaphones and typewriters still reign and old-time agents doze at their desks after martini lunches. At night she goes home to the tiny, threadbare Williamsburg apartment she shares with her socialist boyfriend. Precariously balanced between glamour and poverty, surrounded by titanic personalities, and struggling to trust her own artistic instinct, Rakoff is tasked with answering Salinger's voluminous fan mail. But as she reads the candid, heart-wrenching letters from his readers around the world, she finds herself unable to type out the agency's decades-old form response. Instead, drawn inexorably into the emotional world of Salinger's devotees, she abandons the template and begins writing back. Over the course of the year, she finds her own voice by acting as Salinger's, on her own dangerous and liberating terms.

Rakoff paints a vibrant portrait of a bright, hungry young woman navigating a heady and longed-for world, trying to square romantic aspirations with burgeoning self-awareness, the idea of a life with life itself. Charming and deeply moving, filled with electrifying glimpses of an American literary icon, My Salinger Year is the coming-of-age story of a talented writer. Above all, it is a testament to the universal power of books to shape our lives and awaken our true selves.
About the Author
---
Joanna Rakoff's novel A Fortunate Age won the Goldberg Prize for Jewish Fiction by Emerging Writers and the Elle Readers' Prize, and was a New York Times Editors' Choice and a San Francisco Chronicle best seller. She has written for The New York Times, the Los Angeles Times, Vogue, and other publications. She lives in Cambridge, Massachusetts.
Praise For…
---
"My Salinger Year is at heart—and it has lots of heart—an affecting coming-of-age memoir about a naïve, eager literary aspirant who, like a character out of Salinger (Franny Glass, for one), 'was trying to figure out how to live in this world' . . . What adds freshness to My Salinger Year is not just its wry take on the writer of the rye but Rakoff's sympathetic mix of passivity, naïveté, stoicism, earnestness, understated intelligence, and finely honed literary sensibility . . . Rakoff wisely—and deftly—weaves her Salinger story into a broader, more universal tale about finding one's bearings during a pivotal transitional year into real adulthood."
            —Heller McAlpin, The Washington Post
 
"A breezy memoir of being a 'bright young assistant' in the mid-1990s . . . Salinger himself makes a cameo appearance . . . The real star of My Salinger Year remains the Agency itself, with its Dictaphones and fox stoles, its wistful attempts to cling to the days of '"Thin Man" movies and steamship travel' . . . The 'archaic charms' of the Agency are comically offset by its refusal to acknowledge the Internet age."
            —Suzanne Berne, The New York Times Book Review
 
"Glamorous . . . A time-capsule portrait . . . Rakoff does a marvelous job of capturing a cultural moment—the publishing industry on the cusp of the Internet era—and describing the ambition and anxiety of a young, bright, creative person living beyond her means in an expensive and relentlessly competitive city . . . What is most admirable is [her] critical intelligence and generosity of spirit."
            —Priscilla Gilman, The Boston Globe
 
"Absorbing . . . Not only does Rakoff adeptly capture the uncertainty of youth—how one weaves down the road of responsibility, with hardly enough money for rent or sense for relationships—she also perfectly describes the agency's office . . . A beautifully written tribute to the way things were at the edge of the digital revolution, and also to the evergreen power of literature to guide us through all of life's transitions."
            —Kim Schmidt, Chicago Tribune
 
"Charming . . . Accomplished . . . With her gimlet eye for detail, Rakoff captures 1996 hipster Brooklyn perfectly, although these creative, aspiring, slightly ridiculous people are eternal types . . . My Salinger Year's heart lies with Rakoff's own story . . . Salinger is not a mentor to her but a muse who inspires her artistic independence."
            —Alix Ohlin, San Francisco Chronicle  

"Rings true . . . Rakoff is a keen observer . . . The loneliness of life after college, perfectly explained . . . There's something Salingeresque about her book: it's a vivid story of innocence lost."
            —Entertainment Weekly
 
"Gentle, funny, closely observed . . . Covers much more than just Salinger . . . The special unworldliness of the young literary person, who has reached adulthood without ever knowing or caring much about how the world works, is the real subject of My Salinger Year."
            —Tablet Magazine
 
"Moving . . . Heartfelt . . . Rakoff uses Salinger—his fan mail and her favorite character, Franny—to help illuminate her inner life . . . The memoir is touching, and it's easy to empathize with how Rakoff, like Franny, is 'trying to figure out how to live in this world.'"
            —USA Today
 
"My Salinger Year describes its author's trip down a metaphorical rabbit hole back in 1996. She arrived not in Wonderland, but a place something like it, a New York City firm she calls only the Agency . . . An outright tribute to the enduring power of J.D. Salinger's work."
            —Salon
 
"Gripping and funny . . . A coming-of-age story: an involving, evocative tale that will have bookish women everywhere shuddering in recognition. Like Rona Jaffe's novel of the 50s, The Best of Everything, it is concerned with what it feels like to move to the big city, to take on your first job, and to struggle to survive on a tiny salary when all the while your dreams are seemingly being snuffed out at every turn, and your love life is spiraling into muddle and mayhem. It is about the heady, never-forgotten period in every girl's life when fear and elation seem almost to be the same thing . . . So raw and so true."
            —The Guardian
 
"Hard to put down . . . Demands sympathy, admiration, and attention . . . The details about Salinger are fascinating . . . What this book is really about, though, is not Salinger, but Rakoff; a coming-of-age tale of a young writer . . . Irresistible."
            —The Sunday Times
 
"Intimate . . . Elegant . . . Graceful."
            —The Sunday Telegraph
 
"As memoirs go, this is possibly one of the year's funniest, enthralling and entertaining . . . For an insight into old-fashioned publishing this must be hard to beat. Everyone smokes, returns tiddly from boozy lunches, and authors are treated with respect. It knocks spots off The Devil Wears Prada."
            —The Sydney Morning Herald
 
"Lures you in . . . A story about growing up and getting better in a rapidly changing industry and world."
            —Flavorwire, "June 2014 Books You Must Read"
 
"Honest, introspective, and completely compelling . . . Sure to appeal to readers who are obsessed with the enigmatic Salinger, but it is intended for those who have experienced (or are experiencing) their own bluesy, confused, post-college Salinger Year. Rakoff is a careful observer and endearingly human. Her coming-of-age story is a gentle reminder that we are all, still, coming of age."
            —Library Journal
 
"Sharply observed . . . Engaging, particularly for its mastery of tone . . . Rakoff provides good company as she explores the mysteries of the literary world."
            —Kirkus Reviews
 
"This is a vibrant coming-of-age memoir that moves along with momentum and energy, and one only wishes Rakoff had spent more than one year with Salinger so we'd have an even fuller portrait of a man who was and is often misunderstood."  
            —Publishers Weekly
 
"While it may be the Salinger cameo that initially draws readers in, it's Rakoff's effortlessly elegant, unhyperbolic prose and poignant coming-of-age story that will keep them engrossed through the very last word."
            —BookPage
 
"Here is the story of a reader becoming a writer, of a young woman deciding who she will be, of the power of books. Here is a memoir that manages to be dreamlike but sharp, poignant but unsentimental. Here is a book I'm going to have to insist you read immediately."
            —Maggie Shipstead, author of national bestseller, Seating Arrangements
 
"The writing is beautiful, and the story takes me back to my first days in New York . . . The best thing I've read in ages."
            —J. Courtney Sullivan
 
 "This is an impossibly excellent read—a glowingly entertaining, miss-your-subway-stop engrossing, note-perfect piece of storytelling. Joanna Smith Rakoff's My Salinger Year is ostensibly about finding your way as a young adult and what it really means to be on your own for the first time; but it's really about Manhattan at the brink of the internet age, the disappointments of love, the joys of reading, the perils of ambition, phonies (of course it's about phonies!), what books meant to our culture in the twentieth century and what they continue to mean in the new one. Really now, who doesn't want to find out what it's like to have cranky old Jerry Salinger screaming at you first thing, before you've even had your morning coffee?"
            —Charles Bock, author of New York Times bestseller, Beautiful Children
 
"Joanna Rakoff is the literary world's Lena Dunham, both of them witty, sensitive, elegantly baffled, zeitgeist-hitting Brooklyn ladies of their respective half-generations. We root for Joanna as she painstakingly juggles the Dictaphone and Selectric of her enigmatic chain-smoking female boss, in a city that has banned nicotine and switched to computers; as she deals with her lovable, impetuous, gym-rat Socialist boyfriend in the still-Wild West of Williamsburg; and as she finds herself in the worshipping world of 'Jerry,' the stodgy agency's venerated star-client and reason for being. Joanna discovers herself the just-pre-"start-up"-world way: by worrying and feeling and writing and struggling. Make no mistake: Joanna's memoir is about her, not J.D. Salinger. And we're the richer for it."
            —Sheila Weller, author of New York Times bestseller Girls Like Us: Carole King, Joni Mitchell, Carly Simon, and the Journey of a Generation
 
"Every young person who moves to New York with creative ambitions should read Joanna Rakoff's wonderful memoir of being young and literary in the late 1990s. Navigating her first 'real' job—which happens to be at a storied literary agency—a live-in boyfriend who doesn't invite her to his best friend's wedding and an apartment without a kitchen sink, Rakoff finds joy in reading and writing and in the city itself, which comes alive in her hands, from rooftop parties downtown to the Plaza Hotel to arty coffee shops in not-yet-gentrified parts of Brooklyn. Meanwhile, the story Rakoff tells of that one all-important year is as transporting as the best novels and is full of insight into work, love and the pursuit of an artistic life."
            —Adelle Waldman, author of The Love Affairs of Nathaniel P.
 
"I fell in love with My Salinger Year like the young Joanna Rakoff falls in love with the books in it—deeply, with abandon, letting the world fall away. For anyone who worked in a pre-Google office in New York City, this book is a gift of memory, a Dictaphone transcription from a forgotten age. But anyone who loves fiction, and people, and youth, and love, will fall in love with it, too—and with Joanna's sensuous longing for belonging, the lovely and curious kind of coming of age we all would like to remember for ourselves."
            —Eleanor Henderson, author of Ten Thousand Saints