Steve Jobs: Insanely Great (Paperback)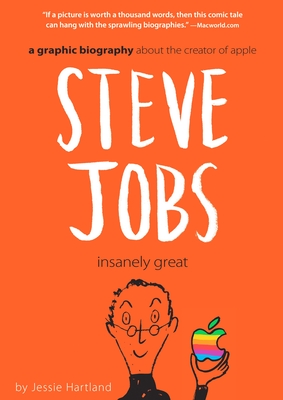 $12.09
This item is not currently available to order.
Description
---
Whether they've seen Aaron Sorkin and Danny Boyle's Steve Jobs movie, read Walter Isaacson's biography, or just own an iPhone, this graphic novel retelling of the Apple innovator's life will capture the imaginations of the legions of readers who live and breathe the technocentric world Jobs created.
 
Told through a combination of black-and-white illustrations and handwritten text, this fast-paced and entertaining biography in graphic format presents the story of the ultimate American entrepreneur, the man who brought us Apple Computer, Pixar, Macs, iPods, iPhones, and more.
 
Jobs's remarkable life reads like a history of the personal technology industry. He started Apple Computer in his parents' garage and eventually became the tastemaker of a generation, creating products we can't live without. Through it all, he was an overbearing and demanding perfectionist, both impossible and inspiring. Capturing his unparalleled brilliance, as well as his many demons, Jessie Hartland's engaging biography illuminates the meteoric successes, devastating setbacks, and myriad contradictions that make up the extraordinary life and legacy of the insanely great Steve Jobs.

Here's the perfect book for any teen interested in STEM topics, especially tech.
 
A School Library Journal Best Book of the Year

"If a picture is worth a thousand words, then this comic tale can hang with the sprawling biographies." —Macworld.com
 
"An accessible take . . . undoubtedly valuable for kids who are growing up using Apple's products but knowing little about the man who created them." —GeekDad.com
About the Author
---
Jessie Hartland is the author and illustrator of the highly acclaimed graphic biography Bon Appétit: The Delicious Life of Julia Child, which the New York Times described as "bursting with exuberant urban-naïf gouache paintings and a hand-lettered text that somehow manages to recount every second of Child's life." Her illustrations have appeared in newspapers and magazines throughout the world, including the New York Times, Bon Appétit, Martha Stewart Living, Real Simple, and Travel and Leisure. She is also a commercial artist whose work can be seen on ceramics and fabric, as well as in advertisements and store windows. She lives in New York City with her family. To learn more, visit jessiehartland.com and follow @JessieHartland on Twitter.
Praise For…
---
"Hartland ably captures the many facets of entrepreneur and innovator Steve Jobs in this graphic biography…. Luddites and iFans alike should find this volume an illuminating introduction to Jobs's life and the recent history of consumer electronics." —School Library Journal starred review

"Harland brings the style of simple drawings paired with easy-to-digest facts she used in her first novel, Bon Appétit! The Delicious Life of Julia Child, to a breezy yet thorough illustrated biography of Apple pioneer Jobs." —Publishers Weekly

"Hartland's signature squiggle style and handwritten text create a disarming, intimate view of the subject, as does the lack of any color. Like Job's innovative designs, her approach is sleek and simplistic, covering just what is needed while still standing out from the competition" —Booklist

"Wonderfully fun…I think he (Jobs) would absolutely adore that there's this graphic biography of him.
―Nancy Pearl, 
 
"For being a streamlined look at an impressively packed life, Insanely Great is a complete and multifaceted story…The book is nuanced without being sprawling; comprehensive but not exhaustive—or exhausting, for that matter." ―Macworld.com 
 
"If you are a fan of Steve Jobs, would like to learn more about this brilliant man or like the comic form, then this is the perfect book for you." ―TeenReads.com
 
"I love Hartland's illustrations. They exhibit a pleasing simplicity that should make them appeal to anyone with a love of Apple-style minimalism." ―CultofMac.com
 
"[A]n accessible, engaging, and thoroughly entertaining biography." ―ComicsGrinder.com