God and Race Bible Study Guide Plus Streaming Video: A Guide for Moving Beyond Black Fists and White Knuckles (Paperback)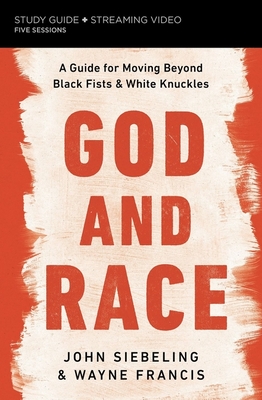 $19.99
This item is not currently available to order.
Description
---
How you--and your church community--can play a part in ending racism.
Pastors John Siebeling and Wayne Francis--whose thriving congregations are the embodiment of diversity--have pooled their insights and experiences to help others have conversations about racism. Many churches and leaders have sought their counsel, hoping to emulate their success, and yours can too.
This study guide has everything you need for a full Bible study experience, including:
The study guide itself--with discussion and reflection questions, video notes, and a leader's guide.
An individual access code to stream all five video sessions online (you don't need to buy a DVD ).
God and Race provides a non-threatening means for pastors, church leaders, and churchgoers to speak to each other about this difficult and pervasive problem. In this study, Wayne and John show how neither black fists nor white knuckles are the answer to the problem, but that what is needed are open hands, open hearts, and open minds. Together, they:
Examine the White-Black tension from both perspectives.
Answer all the uncomfortable questions we're afraid to ask--regarding ourselves, our families, our work and relationships, and the church.
Discuss seven key statements that they believe the church needs to acknowledge today--including that racism is a real problem, that it's more than just a spiritual issue, and that the Gospel is the solution.
Provide practical steps anyone can take to become part of the solution.
In the Gospels, we see how the crowds came to Jesus because he talked about real issues and was not afraid to engage in the important issues of his day. In the church of today, we need to be doing the same: only by recognizing, addressing, and openly dialoguing about the racial tension in America can we begin to work toward real solutions together.
Streaming video access code included. Access code subject to expiration after 12/31/2027. Code may be redeemed only by the recipient of this package. Code may not be transferred or sold separately from this package. Internet connection required. Void where prohibited, taxed, or restricted by law. Additional offer details inside.