The Unfinished Reformation: What Unites and Divides Catholics and Protestants After 500 Years (Paperback)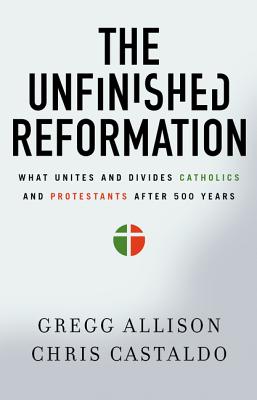 $18.69

Available in our Warehouse: Usually Ships in 3-8 Days
Description
---
The Unfinished Reformation offers a thoughtful look at the key theological and sociological differences between Catholicism and Protestantism.
In 1517 a Catholic monk nailed a list of grievances on the door of a church in Germany and launched a revolution in the history of Christianity. That monk was Martin Luther, and the revolution was the Protestant Reformation. What followed this upheaval was flexibility and innovation in the church but also religious instability and division, particularly among the Catholic and Protestant fault line. Five hundred years later, there continues to be unresolved issues between the Protestant and Catholic churches. So, Gregg Allison and Chris Castaldo ask... is the Reformation really finished?
The Unfinished Reformation is a brief and clear guide to the key points of unity and divergence between the two largest branches of Christianity. Fundamental differences in doctrine and practice are addressed in detail:
Scripture, Tradition, and Interpretation
Image of God, Sin, and Mary
Church and Sacraments
Salvation
Written in an accessible and informative style, The Unfinished Reformation provokes thought about Christian beliefs, equips you for healthy conversations with those on the other side of the divide, and encourages fruitful discussion about the gospel of Jesus Christ.