Christian Participant's Guide with DVD: It's Not What You Think (Paperback)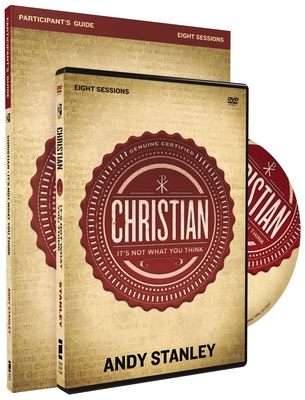 $46.19
This item is not currently available to order.
Description
---
Why is there so little agreement on what it means to be a Christian?
In this eight-session video-based Bible study, join pastor and bestselling author Andy Stanley as he examines the characteristics Jesus used to define those who follow him and the implications these characteristics have for believers today.
In Christian: It's Not What You Think, you'll learn:
The one word that should be descriptive of every Christian.
How Jesus' followers should treat those who are outside the faith.
Why people love Jesus but can't stand his followers.
So, what does it mean to be Christian? Curiously, the term 'Christian' was a label used by outsiders to define Jesus' followers. Jesus simply used 'disciple' to describe his followers and stressed the fact that they would be known by their love--a radical concept not only in their day, but in ours as well.
Throughout these eight sessions, Andy Stanley unpacks the qualities Jesus prescribes for his followers that made them unique. What if believers today embodied these traits and put them before all others? Would the non-believing world put aside its derisive definition of 'Christian' and instead know us by our love?
Sessions include:
Brand Recognition
Quitters
Insiders, Outsiders
Showing Up
When Gracie Met Truthy
Angry Birds
Loopholes
Working It Out
This pack contains one participant's guide and one DVD.