Lust & Wonder: A Memoir (Hardcover)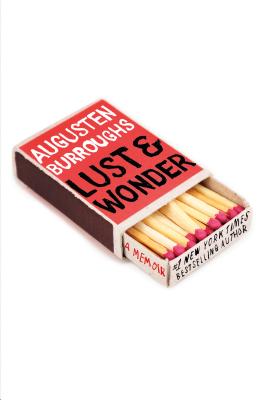 $26.99
This item is not currently available to order.
April 2016 Indie Next List
---
"We have read about his crazy childhood, his struggles with alcohol, and his troubled relationships with his father and Christmas. Now, we have Burroughs' take on love and romance, and what a tale it is! This is a love story as only Burroughs can tell it - the wrong lovers, the long-term relationship that turned out to be toxic, and the love that was staring him in the face all along. Roses and moonlight it is not, but the course of true love never does run smooth. I laughed, I cried - just read it!"
— Susan Taylor (M), Market Block Books, Troy, NY
Description
---
The instant New York Times bestseller

Lust: 1. intense sexual desire or appetite
2.a passionate or overmastering desire or craving
3.ardent enthusiasm; zest; relish.

Wonder: 1. something strange and surprising; a cause of surprise, astonishment,or admiration
2. the emotion excited by what is strange and surprising; a feeling of surprised or puzzled interest, sometimes tinged with admiration
3. a miraculous deed or event; remarkable phenomenon

From the beloved #1 New York Times bestselling author comes an intimate look at the driving forces in one man's life.

With Augusten's unique and singular observations and his own unabashed way of detailing both the horrific and the humorous, Lust and Wonder is a hilariously frank memoir that his legions of fans have been waiting for. His story began in Running with Scissors, endured through Dry, and continues with this memoir, the capstone to the life of Augusten Burroughs.

Funny, sweet, alarming, and ultimately, moving and tender, Lust & Wonder is an experience of a book that will resonate with anyone who has loved and lost and loved again.
About the Author
---
Augusten Burroughs is the author of Running with Scissors, Dry, Magical Thinking: True Stories, Possible Side Effects, A Wolf at the Table and You Better Not Cry. He is also the author of the novel Sellevision, which has been optioned for film. The film version of Running with Scissors, directed by Ryan Murphy and produced by Brad Pitt, was released in October 2006 and starred Joseph Cross, Brian Cox, Annette Bening (nominated for a Golden Globe for her role), Alec Baldwin and Evan Rachel Wood. Augusten's writing has appeared in numerous magazines and newspapers around the world including The New York Times and New York Magazine. In 2005 Entertainment Weekly named him one of "The 25 Funniest People in America." He resides in New York City and Western Massachusetts.
Praise For…
---
"All of the wisdom he dispenses in his new book-delivered with the dark, acidic humor we've come to expect-is certainly well-earned." —The Boston Globe on This is How

"Dry is more than a heartbreaking tale; it's a heroic one. As with its predecessor, we finish the book amazed not only that Burroughs can write so brilliantly, but that he's even alive." —People on Dry

"It makes a good run at blowing every other [memoir] out of the water." —Carolyn See, The Washington Post on Running with Scissors

"Funny and rich with child's eye details of adults who have gone off the rails." —The New York Times Book Review on Running with Scissors