Crawl Space: A Novel (Paperback)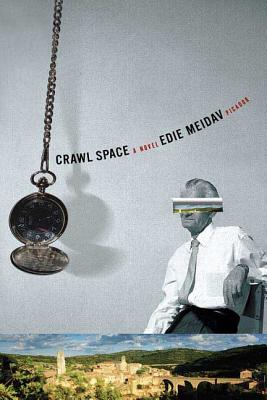 $27.00
Available in our Warehouse: Usually Ships in 3-8 Days
Description
---
Winner of the Bard Fiction Prize
A San Francisco Chronicle Best Book of the Year
An Electric Review Best Book of the Year
A ReadySteadyBook Best Book of the Year
It's 1999 and Emile Poulquet awaits sentencing in a Paris court for deporting thousands to almost certain death during World War II. But, haunted by ghosts from his former life, and determined to confront his dark legacy, he escapes and heads toward his beloved Finier, a rural town in the south of France where he once served as prefect. His return will have explosive consequences.
By turns reflective and slyly humorous, Crawl Space poignantly describes one man's tragic attempt to come to terms with the past.
About the Author
---
Edie Meidav is the author of The Far Field: A Novel of Ceylon and Crawl Space (FSG, 2005). Winner of a Lannan Fellowship, a Howard Fellowship, the Kafka Prize for Fiction by an American Woman, and the Bard Fiction Prize, she teaches at Bard College.
Praise For…
---
"[Meidav's] portrait of Poulquet is chilling in its understatement. . . . Meidav sounds the notes of detachment and desperation in Poulquet's voice with unflinching exactness. . . . Meidav's seriousness and energy demand nonetheless that we hold her novel to the highest standards." —The New York Times Book Review
"[A] finely crafted, seriocomic tale . . . An ambitious book in the tradition of the European novel of ideas, addressing the failure of memory, the ineluctability of fate, and the age-old issues of guilt and redemption . . . [Narrator Poulquet is] charming, a literate raconteur. . . . Meidav's novel is a reminder of the power of the culture to shape morality [and] demonstrates her considerable gifts as a stylist; there's not a false note in the prose." —San Francisco Chronicle
"A vivid panorama of the modern world, refracted through an amazingly intricate character. The secrets of history, the unrequited loves and betrayals, the disgraces and disappointments and confusions--all are revived for Emile Poulquet, who, in trying to escape his past, runs headlong into the trap of memory and guilt. Crawl Space is the work of a fearless writer with a cosmic imagination." —Joanna Scott
"Lyrical." —The East Bay Express ("Please Please Read These" selection)
"A heart-chilling tale of love and hate . . . Meidav's novel illuminates . . . with all the brilliant Technicolor that well-honed fiction has to offer." —Los Angeles Times
"Poulquet is, he says, 'one more unjew jewed by history.' Such a fellow should not be good company for the substantial pilgrimage we undertake with him in Edie Meidav's troubling new novel, Crawl Space. But he is quite a creation indeed, this aging anti-Quixote with his residual windmills to tilt at. . . . It might have been tempting for a novelist to show Poulquet crumbling with guilt, self-accusation, and awareness; the quality of his whimsical hauteur is not the least of Meidav's triumphs as a storyteller." —Thomas Keneally, author of Schindler's List
"Meidav's style is subtle and sophisticated, resembling that of Marcel Proust." —J. (the Jewish news weekly of Northern California)
"Edie Meidav's brave novel about an aged French Nazi who has slipped between the cracks of the legal system, and, with unreconstructed prejudices, seeks shelter in his hometown now." —Robert Kelly, author of Lapis
"Unfailingly interesting." —San Francisco magazine
"Meidav has the ability to tackle the huge, unanswerable questions of history with breathtaking skill and daring. She goes deep into The Other and brings into focus the complex interrelations among beauty, cruelty, sympathy, and brutality. The profundity of her moral and philosophical probing is matched by the strikingness of her imagery and the lyricism of her prose. She surveys the most reprehensible moral landscape and elicits from her reader, in that miraculous act of grace that only fiction can provide, a sympathy, as well as a repugnance for that very sympathy. A masterful manipulator, she milks every nuance of vulnerability and shamelessness, delusion and contrition. Like Penelope weaving and unweaving her tapestry, Meidav heals and rips apart the wounds of history nearly simultaneously. She forces us to interrogate the very nature of memory. Her vision is vast, global, uncompromising, risk taking. Thus it is no surprise that her brilliant career is fast evolving." —Mary Caponegro
"An original, new novel about the Holocaust . . . A provocative and compelling second novel." —Jewish Woman magazine
"Meidav embeds the reader in the mind of a narcissistic, self-loathing, obsessive, vengeful narrator, a French Nazi collaborator, whose oddly compelling voice is the achievement of this complex novel (after The Far Field). . . . With a tale both chilling and comical, Meidav considers the struggle to define history." —Publishers Weekly
"A deep character study of an octogenarian who knows that even death will not eliminate the guilt that haunts him. His need to 'go home' grips readers. . . . Meidav does the impossible." —Midwest Book Review
We appreciate your continued support!
If you would like to make a donation to help us through CLICK HERE.