The Two Kinds of Decay: A Memoir (Paperback)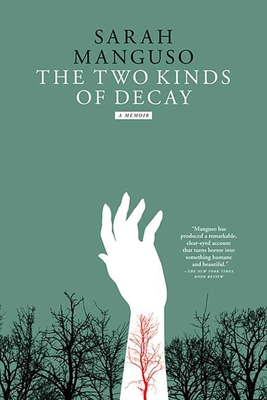 $17.00

Available in our Warehouse: Usually Ships in 3-8 Days
Description
---
A Spare and Unsparing Look at Affliction and Recovery that Heralds a Stunning New Voice

The events that began in 1995 might keep happening to me as long as things can happen to me. Think of deep space, through which heavenly bodies fly forever. They fly until they change into new forms, simpler forms, with ever fewer qualities and increasingly beautiful names.

There are names for things in spacetime that are nothing, for things that are less than nothing. White dwarfs, red giants, black holes, singularities.

But even then, in their less-than-nothing state, they keep happening.

At twenty-one, just starting to comprehend the puzzles of adulthood, Sarah Manguso was faced with another: a wildly unpredictable disease that appeared suddenly and tore through her twenties, vanishing and then returning, paralyzing her for weeks at a time, programming her first to expect nothing from life and then, furiously, to expect everything. In this captivating story, Manguso recalls her nine-year struggle: arduous blood cleansings, collapsed veins, multiple chest catheters, the deaths of friends and strangers, addiction, depression, and, worst of all for a writer, the trite metaphors that accompany prolonged illness.

A book of tremendous grace and self-awareness, The Two Kinds of Decay transcends the very notion of what an illness story can and should be.
About the Author
---
Sarah Manguso is the author of a memoir, The Two Kinds of Decay; books of poetry, Siste Viator and The Captain Lands in Paradise; and a short-story collection, Hard to Admit and Harder to Escape.
Praise For…
---
"Manguso has produced a remarkable, clear-eyed account that turns horror into something humane and beautiful." —The New York Times Book Review

"Moving . . . a fiercely truthful memoir of illness." —The Boston Globe

"Here is not a day-by-day description of this grueling time, but an impressionistic text filled with bright, poetic flashes. . . . Many sick people learn to live in the moment, but the power of Manguso's writing makes that truism revelatory." —The Washington Post Book World

"Manguso's slender volume is written in a sparese, no-nonsense style that can be chilling but makes you cheer for the author." —New York Post

"Manguso writes this account from the far end of the illness, looking back on it from a position of physical strength, biting ferocity, and unsentimental wit." —Bookforum

"A series of brief, elliptical vignettes composed of sentences as spare as they are unsparing . . . Manguso pushes beyond the familiar confrontation between doctor and patient to explore the linguistic confusion at the heart of the power struggle." —Slate

"[A] stunning story . . . Manguso's deadpan tone works equally well in service of the painful and funny moments, or when the two meet." —Time Out Chicago