This Must Be the Place: A Novel (Paperback)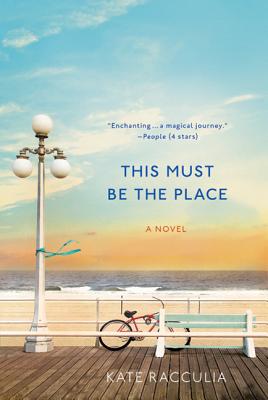 $26.99
Available in our Warehouse: Usually Ships in 3-8 Days
August 2010 Indie Next List
---
"This is one of the most engaging books I have read in a while. A quirky cast of characters come together to make up a highly entertaining, touching book. Chief among them are: Oneida Jones, a self-described freak who has embraced her oddness; her mother Mona, wedding cake baker and proprietress of the Darby-Jones boardinghouse; and Arthur Rook, a recently widowed photographer who believes he can 'see' the real essence of a person. You will come to love these characters and this book!"
— Avery Dickey, Inkwood Books, Tampa, FL
Description
---
A sudden death, a never-mailed postcard, and a longburied secret set the stage for a luminous and heartbreakingly real novel about lost souls finding one another
The Darby-Jones boardinghouse in Ruby Falls, New York, is home to Mona Jones and her daughter, Oneida, two loners and self-declared outcasts who have formed a perfectly insular family unit: the two of them and the three eclectic boarders living in their house. But their small, quiet life is upended when Arthur Rook shows up in the middle of a nervous breakdown, devastated by the death of his wife, carrying a pink shoe box containing all his wife's mementos and keepsakes, and holding a postcard from sixteen years ago, addressed to Mona but never sent. Slowly the contents of the box begin to fit together to tell a story—one of a powerful friendship, a lost love, and a secret that, if revealed, could change everything that Mona, Oneida, and Arthur know to be true. Or maybe the stories the box tells and the truths it brings to life will teach everyone about love—how deeply it runs, how strong it makes us, and how even when all seems lost, how tightly it brings us together.
With emotional accuracy and great energy, Kate Racculia's This Must Be the Place introduces memorable, charming characters that refuse to be forgotten.
About the Author
---
Kate Racculia has her MFA from Emerson College and a background in art history, illustration, and design. She is the author of This Must Be the Place. She lives in Boston, Massachusetts.
Praise For…
---
"'This Must Be the Place' makes for a lively read as it explores the themes of friendship, love, loss and forgiveness. . . . [T]he author creates subtle moments of poetry by way of everyday objects and lives." —Los Angeles Times
"By book's end, readers will know they have unearthed a treasure. Highly recommended for discerning readers." —Library Journal
"The author brilliantly captures teenage angst and uncertainty as she conveys some very grown-up truths about the choices we make and the prices we—and others—pay for them. Intelligent, warm-hearted and tough-minded—Racculia is a talent to watch." —Kirkus (starred)
"In This Must Be the Place Kate Racculia reveals herself to be a wonderfully witty writer whose vivid characters--young and not so young--are capable of endless surprises. Her absorbing plot and her deep understanding of the connection between past and present make this an affecting and deeply pleasurable novel." —Margot Livesey, author of The House on Fortune Street
"What a lovely, utterly endearing book this is--effulgent and alive, peopled with originals, alchemically forging whole souls out of fractured hearts. Kate Racculia tells her tale with the rare, light-winged grace of a natural-born storyteller who finds meaning and beauty in the deliciously strange half-twist." —Beth Kephart, author of Undercover and A Slant of Sun
"Never has it been more aptly presented than in this engaging novel that love can take us all on unexpected journeys--often when we least expect it. Here is a story that is part mystery, part meditation, part romance, part imperative. It is presented from different points of view: cake-baking Mona, mistress of a boarding house, for whom a long-ago act of love for a friend leads to a complicated romance. Mona's teenage daughter, Oneida, whose tentative forays into love bring her far more than she anticipated. And Arthur, a man widowed too soon, on a path that will lead him to understand who his young wife really was. Kate Racculia has a strong and original voice, and a lot to say about the chances we take--or miss." —Elizabeth Berg, author of The Last Time I Saw You
We appreciate your continued support!
If you would like to make a donation to help us through CLICK HERE.