The Trinity Six (Hardcover)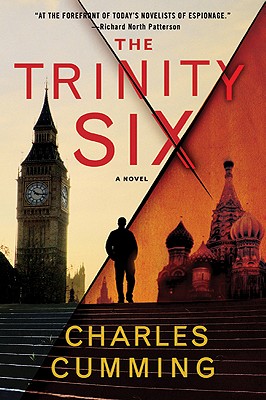 $24.99
Email or call for price.
April 2011 Indie Next List
---
"From the dark days of the Cold War to the darker days of Tony Blair's Britain, Trinity Six crackles with intelligence and action. Following in the footsteps of John le Carre and Len Deighton, Cumming creates an intriguing thriller that seamlessly blends history and fiction. Professor Sam Gaddis's bookish life falls away as he attempts to uncover the truth about a dead man who isn't really dead, and a parallel reality in which nothing is what seems. Classic, compelling espionage from a new master!"
— Michael Barnard, Rakestraw Books, Danville, CA
Description
---
A Washington Post Notable Fiction Book for 2011
The most closely-guarded secret of the Cold War is about to be exposed – the identity of a SIXTH member of the infamous Cambridge spy ring. And people are killing for it… 
London, 1992. Late one night, Edward Crane, 76, is declared dead at a London hospital. An obituary describes him only as a 'resourceful career diplomat'. But Crane was much more than that – and the circumstances surrounding his death are far from what they seem. 
Fifteen years later, academic Sam Gaddis needs money. When a journalist friend asks for his help researching a possible sixth member of the notorious Trinity spy ring, Gaddis knows that she's onto a story that could turn his fortunes around. But within hours the journalist is dead, apparently from a heart attack. 
Taking over her investigation, Gaddis trails a man who claims to know the truth about Edward Crane. Europe still echoes with decades of deadly disinformation on both sides of the Iron Curtain. And as Gaddis follows a series of leads across the continent, he approaches a shocking revelation – one which will rock the foundations of politics from London to Moscow…
"Cumming's novel is characterized by a gripping sense of realism. He displays a vast knowledge of spycraft and Cold War history, and the dense, three-dimensional world he crafts comes complete with seedy hotels and smoky nightclubs. The result is absolutely gripping. Taut, atmospheric and immersive—an instant classic." – Kirkus Reviews (starred review) on The Trinity Six
The Trinity Six is a Kirkus Reviews Best of 2011 Thrillers title.
About the Author
---
CHARLES CUMMING is the author of the international bestselling thrillers "A Spy By Nature, The Spanish Game, "and "Typhoon. "A former British Secret Service recruit, he is a contributing editor of "The Week "magazine and currently lives in London.
Praise For…
---
"Brilliant....All this, in the hands of a less talented writer, might have been a routine spy thriller, but there is nothing routine about The Trinity Six. Cumming writes smart, seductive prose, and he's gifted at revealing the subtleties of personality. Scene after scene crackles with excitement, tension and suspense. The novel's ingenious plot is almost as complicated as real life, but as one astonishing revelation follows another, the book is all but impossible to put aside....With this novel, Cumming joins Alan Furst, David Ignatius and Olen Steinhauer among the most skillful current spy novelists, and he bears comparison with masters such as John le Carré and Graham Greene.... A sophisticated thriller." --The Washington Post
"Cumming's novel is characterized by a gripping sense of realism. He displays a vast knowledge of spycraft and Cold War history, and the dense, three-dimensional world he crafts comes complete with seedy hotels and smoky nightclubs. The result is absolutely gripping." --Kirkus (starred review)
"The Trinity Six is a fine successor to Typhoon for a young author already compared with le Carré and Littell." --Booklist (starred review)
"Cumming revitalizes the moribund cold war spy novel in this stunning stand alone.his knowledge of the spy business, his well-crafted prose, and his intensely engaging plot make this a breakthrough novel." --Publishers Weekly (starred review)
"Utterly absorbing and compelling. A brilliant re-imagining of events surrounding the notorious Cambridge spy-ring." --William Boyd, author of Ordinary Thunderstorms
"An absolutely terrific thriller. It's going to make Charles Cumming a star." --Jeff Abbott, author of Trust Me
"The Trinity Six breathes new life into Cold War spy fiction, updating the genre for today's Spooks generation. It's nuanced, intriguing, beautifully paced and utterly thrilling." --Jon Stock, author of Dead Spy Running
"In The Trinity Six, Charles Cumming more than lives up to his growing reputation as one of the finest young espionage novelists writing today. With admirable style and enviable craft, he breathes new life into the well-examined case of the... Cambridge Spy Ring, making it compelling to old hands and new readers alike." --Joseph Finder, author of Buried Secrets