The American College President, 1636-1989: A Critical Review and Bibliography (Bibliographies and Indexes in Education) (Hardcover)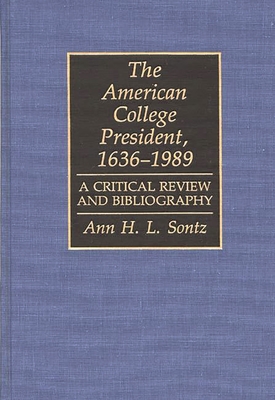 $98.00

Available in our Warehouse: Usually Ships in 3-8 Days
Description
---
Bibliographies of American college presidents are scarce and background data are widely scattered in article, monographic, and biographic form. Ann H. L. Sontz's new bibliography is the first work on this significant topic in 30 years, a period that has witnessed a real expansion of interest in higher education and in the role of the university president both in educational reform and institutional definition maintenance. The volume reflects the fact that much of the finest biographical material on educators has become available only during the past three decades. The Review Essay is a substantial critical review of the past and current role of the college president and its changes in function and perception from early America to 1988. The essay asserts that educational innovations are now as likely to come from presidents of smaller institutions as they are from larger ones and that the social theories of academic presidents need to be scrutinized and placed more firmly in their sociocultural context. Source materials in the bibliography section have been selected with an eye toward both accessibility and relevancy. Only those presidential writings that pertain directly to issues of education and academic governance are cited. Autobiographical materials and educational biographies written by college and university presidents are found here also.
The volume contains a foreword by Paula G. Rubel, Professor of Anthropology at Barnard College, a list of tables, and a helpful section that describes the bibliography's organization and discusses selection criteria. The bibliography itself is preceded by a brief introductory essay that outlines a few of the major trends that have dominated research on the academic presidency. A separate section on background works includes general and theoretical works on the study of higher education and academic leadership; historical studies; references to criteria for presidential assessment and selection; citations relevant to academic finance, fund-raising, and philanthropy; and references to issues confronting presidents of women's, minority, and sectarian institutions. Biographies are treated separately. The archivist and researcher will find an integrated compilation of doctoral dissertations on the college president and a guide to the location of presidential manuscripts and papers. Biographers, both popular and scholarly, historians, and educators, as well as sociologists and anthropologists of education will find this reference invaluable.
About the Author
---
Ann H. L. Sontz is President of The Brunswick Institute, Inc., a research center that specializes in gerontology, human development studies, and the integration of findings from its scientific research into higher education curricula. She holds a PhD in Anthropology from Columbia University and is a nominated member of Sigma Xi, the Scientific Research Society. She is coeditor, with Nancy J. Osgood, of The Science and Practice of Gerontology: A Multidisciplinary Guide and author of Philanthropy and Gerontology: The Role of American Foundations (Greenwood Press, both 1989).