The Second Coming of Mavala Shikongo: A Novel (Paperback)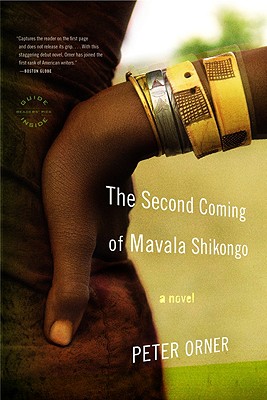 $18.99
Available in our Warehouse: Usually Ships in 3-8 Days
Description
---
Set in Namibia just after independence in the early 1990s, Peter Orner's first novel is a chronicle of the long days, short loves, and cold nights at Goas, an all-boys Catholic primary school so deep in the veld that "even the baboons feel sorry for us."

Though physically isolated in semi-desert beneath a relentless sun, the people of Goas create an alternate, more fertile universe through the stories they tell each other. The book's central character is Mavala Shikongo, a combat veteran who fought in Namibia's long war for independence against South Africa.

She has recently returned to the school -- with a child, but no husband. Mavala is modern, restless, and driven, in sharp contrast to conservative Goas. All the male teachers (including a bumbling but observant volunteer from Cincinnati) try not to fall in love with her. Everyone fails -- immediately and miserably. This extraordinary first novel explores the history of a place through the stories of its people. But above all it's about the fleetingness of love and the endurance of fellowship.
About the Author
---
Peter Orner is the author of three widely praised books, Esther Stories and The Second Coming of Mavala Shikongo, and Love and Shame and Love.  His work has appeared in the Atlantic Monthly and The Best American Short Stories, and has been awarded two Pushcart Prizes.  A former Guggenheim Fellow, Orner is now a faculty member at San Francisco State University. 
Praise For…
---
"A starvation diary about desire, with as much sexual tension as a bodicebuster? Orner hits the right notes and no others."—Mark Schone, New York Times Book Revew

"Lyrical, comical, full-blown . . . A gifted short-story writer gives us his first booklength work of fiction, and does so with flair and panache."—Alan Cheuse, Chicago Tribune

"Mavala Shikongo is one of the most deftly rendered and unforgettable characters in recent fiction. The men of Goas fall in love with her and the reader is helpless, too--she is a revolution unto herself. Orner's book is always elegant and always true, and its wistful and even hallucinatory mood haunts the mind for months after finishing it."—Dave Eggers

"Peter Orner's debut reads like a perfectly formed masterpiece of such idiosyncratic
voice and story that I can't imagine my shelves now without it."—Alexandra Fuller, author of
We appreciate your continued support!
If you would like to make a donation to help us through CLICK HERE.