Blue Ocean Shift: Beyond Competing - Proven Steps to Inspire Confidence and Seize New Growth (Hardcover)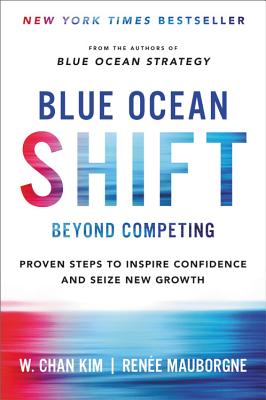 $28.00

Available in our Warehouse: Usually Ships in 3-8 Days
Description
---
NEW YORK TIMES BESTSELLER
#1 WALL STREET JOURNAL BESTSELLER

Blue Ocean Shift is the essential follow up to Blue Ocean Strategy, the classic and over 4 million copy global bestseller by world-renowned professors W. Chan Kim and Renee Mauborgne.

Drawing on more than a decade of new work, Kim and Mauborgne show you how to move beyond competing, inspire your people's confidence, and seize new growth, guiding you step-by-step through how to take your organization from a red ocean crowded with competition to a blue ocean of uncontested market space. By combining the insights of human psychology with practical market-creating tools and real-world guidance, Kim and Mauborgne deliver the definitive guide to shift yourself, your team, or your organization to new heights of confidence, market creation, and growth. They show why nondisruptive creation is as important as disruption in seizing new growth.

Blue Ocean Shift is packed with all-new research and examples of how leaders in diverse industries and organizations made the shift and created new markets by applying the process and tools outlined in the book. Whether you are a cash-strapped startup or a large, established company, nonprofit or national government, you will learn how to move from red to blue oceans in a way that builds your people's confidence so that they own and drive the process.

With battle-tested lessons learned from successes and failures in the field, Blue Ocean Shift is critical reading for leaders, managers, and entrepreneurs alike. You'll learn what works, what doesn't, and how to avoid the pitfalls along the way. This book will empower you to succeed as you embark on your own blue ocean journey. Blue Ocean Shift is indispensable for anyone committed to building a compelling future.
About the Author
---
W. Chan Kim and Renee Mauborgne are Professors of Strategy at INSEAD and Codirectors of the INSEAD Blue Ocean Strategy Institute. They are the authors of the New York Times and #1 Wall Street Journal bestseller, BLUE OCEAN SHIFT and the international bestseller BLUE OCEAN STRATEGY, which is recognized as one of the most iconic and impactful strategy books ever written. Blue Ocean Strategy has sold over 4 million copies, is being published in a record-breaking 46 languages, and is a bestseller across five continents. In 2019, Chan Kim and Renee Mauborgne were named the world's most influential business thinkers by Thinkers50. They are the recipients of numerous academic and management awards around the world including the Nobels Colloquia Prize for Leadership on Business and Economic Thinking, the Carl S. Sloane Award by the Association of Management Consulting Firms, the Leadership Hall of Fame by Fast Company, and the Eldridge Haynes Prize by the Academy of International Business, among others. They are Fellows of the World Economic Forum and the founders of the Blue Ocean Global Network. For more on these authors and their new book, BLUE OCEAN SHIFT, see blueoceanstrategy.com.
Praise For…
---
NEW YORK TIMES BESTSELLER
#1 WALL STREET JOURNAL BESTSELLER
USA TODAY BESTSELLER
LOS ANGELES TIMES BESTSELLER
INTERNATIONALBESTSELLER

Named a Best Book of 2017 by Amazon

Winner of The Best Leadership and Strategy Book of 2017 by 800-CEOREAD

"Kim and Mauborgne have followed one blockbuster book with another. BLUE OCEAN SHIFT takes the groundbreaking principles of their original work and offers a smart, systematic plan to help any organization move from competing in existing markets to creating new markets altogether. You needn't be an entrepreneur or techie to take advantage of these insights. You just have to be willing to challenge the assumptions of your industry, ask fresh questions, and--get this--embrace your humanness."—Daniel H. Pink, New York Times bestselling author of Drive and To Sell Is Human

"BLUE OCEAN SHIFT is great: Practical, useful, real-world."—Inc.

"An exciting new book that synthesizes their experience in assisting with the implementation of Blue Ocean strategy....BLUE OCEAN SHIFT provides us with a comprehensive guide to enable any organization with the right mindset to launch and implement a Blue Ocean initiative."—Forbes

"The challenge of any business is to grow in markets that are crowded and competitive, and to do it in a way that is intelligent, effective, and humane. In BLUE OCEAN SHIFT, you will find all of that and more as Kim and Mauborgne guide you on a journey that will open your eyes to the untapped growth opportunities in your business, whether you are a startup, small business, or Fortune 500 company."
—Ram Charan, CEO and board advisor, New York Times bestselling author of Execution

"[A] stirring business primer...[BLUE OCEAN SHIFT] includes powerful real-life examples....This invaluable guide will be empowering to business-minded readers."—Publishers Weekly

Starred Review: "While [Blue Ocean Strategy] helped to identify new avenues for strategic success, it fell short on providing the actual steps needed to jump from a crowded marketplace into the fabled blue ocean of the title. [BLUE OCEAN SHIFT], however, provides a clear process for business identifying opportunities and developing plans for change...This tide provides a course of action for readers of the authors' previous books and should find a large readership among all organizational levels. Highly recommended."
—Library Journal

"BLUE OCEAN SHIFTproves to be worth the wait. It is a practical, well-written guide to finding and exploiting blue ocean markets, informed by the experiences of companies and other organizations that have chosen to seek them out rather than compete toe-to-toe in established markets."—Strategy + Business