How the Word Is Passed: A Reckoning with the History of Slavery Across America (Hardcover)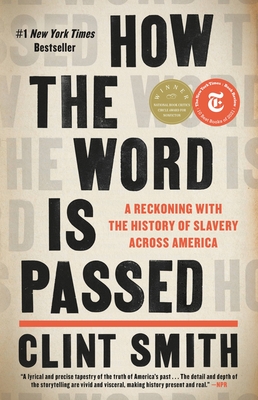 $29.00
Coming Soon - Available for Pre-Order Now
Description
---
"We need this book." —Ibram X. Kendi, #1 New York Times bestselling author of How to be an Anti-Racist

The Atlantic staff writer and poet Clint Smith's revealing, contemporary portrait of America as a slave owning nation

Beginning in his hometown of New Orleans, Clint Smith leads the reader on an unforgettable tour of monuments and landmarks—those that are honest about the past and those that are not—that offer an intergenerational story of how slavery has been central in shaping our nation's collective history, and ourselves.

It is the story of the Monticello Plantation in Virginia, the estate where Thomas Jefferson wrote letters espousing the urgent need for liberty while enslaving more than four hundred people. It is the story of the Whitney Plantation, one of the only former plantations devoted to preserving the experience of the enslaved people whose lives and work sustained it. It is the story of Angola, a former plantation–turned–maximum-security prison in Louisiana that is filled with Black men who work across the 18,000-acre land for virtually no pay. And it is the story of Blandford Cemetery, the final resting place of tens of thousands of Confederate soldiers.

A deeply researched and transporting exploration of the legacy of slavery and its imprint on centuries of American history, How the Word Is Passed illustrates how some of our country's most essential stories are hidden in plain view—whether in places we might drive by on our way to work, holidays such as Juneteenth, or entire neighborhoods like downtown Manhattan, where the brutal history of the trade in enslaved men, women, and children has been deeply imprinted.

Informed by scholarship and brought to life by the story of people living today, Smith's debut work of nonfiction is a landmark of reflection and insight that offers a new understanding of the hopeful role that memory and history can play in making sense of our country and how it has come to be.
About the Author
---
Clint Smith is a staff writer at The Atlantic and the author of the poetry collection Counting Descent. The book won the 2017 Literary Award for Best Poetry Book from the Black Caucus of the American Library Association and was a finalist for an NAACP Image Award. He has received fellowships from New America, the Emerson Collective, the Art For Justice Fund, Cave Canem, and the National Science Foundation. His writing has been published in The New Yorker, The New York Times Magazine, Poetry Magazine, The Paris Review and elsewhere. Born and raised in New Orleans, he received his B.A. in English from Davidson College and his Ph.D. in Education from Harvard University. 
 
Praise For…
---
Named a Most Anticipated Title of 2021 by 

Time
The Millions 
The Rumpus 
Buzzfeed 
Apple Book 
Publishers Weekly 
Library Journal

A Readers Digest Book by Black Authors to Know About 
 
 

"In reexamining neighborhoods, holidays and quotidian sites, Smith forces us to reconsider what we think we know about American history."—Time

"Smith tells his stories with the soul of a poet and the heart of an educator. Smith's ambitious book is fueled by a humble sense of duty: he sought the wisdom of those who tell of slavery's legacy "outside traditional classrooms and beyond the pages of textbooks"; public historians who "have dedicated their lives to sharing this history with others." Smith channels the spirit of Toni Morrison here; the writer as one to pass on the word so that it is never forgotten."—The Millions

"A moving and perceptive survey of landmarks that reckon, or fail to reckon, with the legacy of slavery in America... this is an essential consideration of how America's past informs its present."—Publishers Weekly (starred review)

"A Black journalist and poet calls for a reconsideration of the way America teaches its history of slavery….A brilliant, vital work about 'a crime that is still unfolding.'"—Kirkus (starred review)

"[A] powerful and diligent exploration of the realities and ongoing consequences of slavery in America."—Booklist (starred)

"Clint Smith chronicles in vivid and meditative prose his travels to historical sites that are truth-telling or deceiving visitors about slavery. Humans enslaved Black people, and then too often enslaved history. But How the Word Is Passed frees history, frees humanity to reckon honestly with the legacy of slavery. We need this book." —Ibram X. Kendi, National Book Award-winning and #1 New York Times bestselling author of How to Be an Anti-Racist and Stamped from the Beginning

"A work of moral force and humility, How the Word is Passed offers a compelling account of the history and memory of slavery in America. Writing from Confederate Army cemeteries, former plantations, modern-day prisons, and other historical sites, Clint Smith moves seamlessly between past and present, revealing how slavery is remembered and misremembered—and why it matters. Engaging and wise, this book combines history and reportage, poem and memoir. It is a deep lesson and a reckoning."—Matthew Desmond, Maurice P. During Professor of Sociology and Pulitzer prize winning author of Evicted

"A beautifully written, evocative, and timely meditation on the way slavery is commemorated in the United States."—Annette Gordon-Reed, Carl M. Loeb University Professor at Harvard and Pulitzer prize-winning author of The Hemingses of Monticello

"Clint Smith has given us a new lens for seeing the spaces we inhabit, the stories they tell, and the people who tell those stories. How the Word is Passed sheds light on the contested narratives beneath the surface of our collective national identity, inviting us to dig a little deeper, reminding us never to take received histories for granted."—Eve L. Ewing, author of 1919 and Ghosts in the Schoolyard

"In this stunning book, Clint Smith takes readers on a necessary journey. Like the best of the tour guides he meets, he tells us the truth with conviction and compassion, and he has much to teach, both about the history of slavery across America and about how to pass the word on."

 —W. Caleb McDaniel, Pulitzer Prize-winning author of Sweet Taste of Liberty: A True Story of Slavery and Restitution in America

"This book is beautiful and timely and important. How the Word is Passed reveals so much about race and nation and how we've made this world without feeling like Smith is trying to. I've felt compelled to take it everywhere I've gone. And it's taken me so many places—to confederate cemeteries, to prisons and plantations, to the door of no return. It has made me think about memory and history and the legacy of slavery and commemoration and how we forget, like no other book before it."—Reuben Miller, author of Halfway Home

"There is perhaps no greater challenge than convincing a nation to remember what it would rather choose to forget. Clint Smith, one of our most thoughtful writers and thinkers, skillfully documents how echoes of enslavement remain everywhere. The question is whether we have the collective will to reckon with the realities of our past in order to build a better future. How the Word Is Passed is a vital, desperately-needed contribution to that reckoning."—Wesley Lowery, Pulitzer Prize-winning reporter and author of They Can't Kill Us All
We appreciate your continued support!
If you would like to make a donation to help us through CLICK HERE.