The Age of Light: A Novel (Hardcover)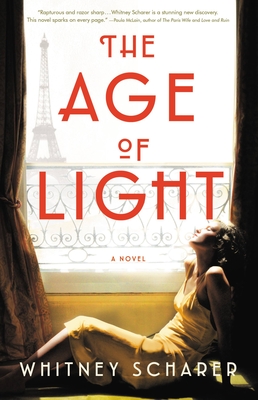 $30.80
This item is not currently available to order.
Staff Reviews
---
Whitney Scharer's magnificent debut will transport you to Paris and sweep you away into the art world. Lee Miller's life is fascinating, and her character is so compelling you will wish you could be her very best friend. I loved this book.
— Suzanna
February 2019 Indie Next List
---
"Art lovers will enjoy this sexy, brilliant novel about Man Ray and Lee Miller set in Paris during the Jazz Age. Ray met Miller shortly after she arrived in Paris, young and just learning her craft. He became her mentor and lover, an intense relationship with the older man nurturing the younger woman's talent. But as Miller grew into her art and the relationship shifted, Ray's ego needed to be first. By WWII, Miller is at the height of her powers, and she leaves behind the safety of shooting portraits for the battlefields of Europe, documenting the horrors of concentration camps. Following Miller from her youth to old age, Scharer explores the passions and creativity of two larger-than-life characters."
— Deon Stonehouse, Sunriver Books & Music, Sunriver, OR
Winter 2019 Reading Group Indie Next List
---
"Set in 1930s Paris, The Age of Light tells the story of Lee Miller, an accomplished woman in her own right, and her relationship as assistant and lover to the artist Man Ray. This novel chronicles her journey from muse to artist; for lovers of historical fiction, this one's for you. A page-turner from start to finish."
— Mary Kay Burnett, Buttonwood Books and Toys, Cohasset, MA
Description
---
One of the Best Books of the Year: Parade, Glamour, Real Simple, Refinery29, Yahoo! Lifestyle. "A startlingly modern love story and a mesmerizing portrait of a woman's self-transformation from muse to artist." --Celeste Ng, author of Little Fires Everywhere

"I'd rather take a photograph than be one," Lee Miller declares after she arrives in Paris in 1929, where she soon catches the eye of the famous Surrealist Man Ray. Though he wants to use her only as a model, Lee convinces him to take her on as his assistant and teach her everything he knows. As they work together in the darkroom, their personal and professional lives become intimately entwined, changing the course of Lee's life forever.

Lee's journey of self-discovery takes took her from the cabarets of bohemian Paris to the battlefields of war-torn Europe during WWII, from inventing radical new photography techniques to documenting the liberation of the concentration camps as one of the first female war correspondents. Through it all, Lee must grapple with the question of whether it's possible to stay true to herself while also fulfilling her artistic ambition--and what she will have to sacrifice to do so.
About the Author
---
Whitney Scharer earned her MFA in Creative Writing from the University of Washington, and her short fiction has appeared in the Bellevue Literary Review, Cimarron Review, and other journals. She's received an Emerging Artist Award in Literature from the St. Botolph Club Foundation, a Somerville Arts Council Artists grant, and been awarded a residency at the Virginia Center for the Creative Arts. The Age of Light is her first novel.
Praise For…
---
"Scharer's debut is a rivetingly sexy snapshot of the duo's real-life relationship as it morphs from apprenticeship to partnership to tumultuous love affair."—Kim Hubbard, People

"The glittering bohemia of 1930s Paris, the pastoral boredom of mid-'60s Sussex, the hollowed-out carnage of postwar Europe; all come equally alive on the page, as do iconic figures like Ray and Cocteau and Kiki de Montparnasse. But none breathe more vividly than Miller herself: Fiercely independent but racked by self-doubt, desperate for affection and approval even as she chafed at sentiment, she spent decades fighting to find her voice. It was worth the wait."

—Entertainment Weekly

"Like Paris in the 1930s, Sharer's first novel is a radiant clash of romance and reality"—O, the Oprah Magazine

"She joins such novelists as Paula McLain ("The Paris Wife") and Rupert Thomson ("Never Anyone but You") in a most worthy enterprise: repopulating male-dominated accounts of the past with the many noteworthy women who deserve the same limelight."—Donna Rikfind, Washington Post

"Scharer...skillfully renders an electric version of the city, pulling the reader into the opulence and mystery of the era."—Annabel Gutterman, Time

"An absolutely gorgeous and feminist novel about art, love, and ownership, The Age of Light is truly a work of art in itself, both deeply moving and thrilling. Want to know what it's like to be an artist? Read this astonishing novel and then, like Lee Miller, take time to consider the extraordinary cost she paid to be herself."—Caroline Leavitt, Boston Globe

"Is "woman behaves dangerously, lives wildly" a genre? If so, The Age of Light is its latest poster child. The novel is work of historical fiction about Lee Miller, a Vogue model who became one of the first female war correspondents. In Scharer's plot, Miller travels to Paris where she meets photographer Man Ray, who becomes her collaborator and lover. While most stories about Miller paint her as Ray's muse, this one portrays her as the independent and daring artist she truly was."—Glamour

Scharer's debut is both engrossing and cinematic, a must for readers who enjoy a fictional peek into the lives of real-life artists.—Library Journal

"Scharer sets her viewfinder selectively, focusing on her heroine's insecurities as much as her accomplishments as an artist; her hunger to be more than "a neck to hold pearls, a slim waist to show off a belt" is contrasted with her habit of solving problems by simply leaving. The price for Lee is steep, but it makes for irresistible reading. Sexy and moving."—Kirkus, starred review

"Scharer's intoxicating first novel...bring[s] a stunning chiaroscuro effect to the saga of a woman transforming herself into an artist."—Booklist, starred review

"Scharer's stellar debut chronicles the tumultuous working and romantic relationships of photographer Man Ray and model-turned-photographer Lee Miller in early 1930s Paris...This brilliant portrayal of the complicated couple features a page-turning story and thrillingly depicts the artistic process."—Publishers Weekly, starred review

"Rapturous and razor sharp all at once, The Age of Light fearlessly unzips anything we might know of Lee Miller as model and muse and recasts her as artist, free thinker and architect of a singular and unapologetic life. Whitney Scharer is a stunning new discovery. This novel sparks on every page."—Paula McLain, New York Times bestselling author of The Paris Wife and Love and Ruin

"Whitney Scharer's storytelling is utterly immersive and gorgeous in its details, transporting you into Lee Miller's life, and her struggles to be taken seriously in a man's world. This is a powerful, sensual and gripping portrait of the forging of an artist's soul."—Madeline Miller, #1 New York Times bestselling author of Circe and Song of Achilles

"In incandescent prose, Whitney Scharer has created an unforgettable heroine discovering her passion, her independence, and her art-and what she must sacrifice to have them. Sweeping from the glamour of 1920s Paris through the battlefields of World War II and into the war's long shadow, The Age of Light is a startlingly modern love story and a mesmerizing portrait of a woman's self-transformation from muse into artist."—Celeste Ng, New York Times bestselling author of Little Fires Everywhere

"An extraordinary young woman discovers love and art and betrayal among the artists of 1930s Paris and documents the horrors of war through her singular camera lens. An uplifting, heartbreaking and altogether immersive read."—Helen Simonson, New York Times bestselling author of The Summer Before the War and Major Pettigrew's Last Stand

"The Age of Light is a bold, intimate and gorgeous novel-at once a vivid romp through the salons and parties of the Paris art world in the 1930s and a breathtaking close up of a woman battling to be both muse and artist, lover and collaborator, and above all, herself. This is a relevant, utterly enthralling debut from a talented writer who understands the complex intersection of ambition and femininity. I was swept off my feet."—Jessica Shattuck, New York Times bestselling author of The Woman in the Castle and The Hazards of Good Breeding

"When I first read The Age of Light, I thought it might have been written expressly for me, since it has everything I love in it: photography, sex, love, war, 1920s Paris, a relationship struggle between two artists, a woman's journey from model to photographer, and the most exquisite writing. Then I realized: this magnetic, addictive novel will beguile every reader. Read it, read it!"—Jenna Blum, New York Times bestselling author of Those Who Save Us and The Lost Family

"A masterpiece, The Age of Light is a searing, evocative novel of love and war, and a woman's fierce determination to transcend her role as muse and remake the world through her own art. Whitney Scharer is a remarkably gifted storyteller - a major new voice in historical fiction."—Dawn Tripp, bestselling author of Georgia and Game of Secrets

"Scharer's scrupulous research and dazzling prose fuse to create a captivating portrait of the little-known - but now unforgettable - Lee Miller, whose exceptional beauty, bold conviction, and rare talent disrupted the male-centric art scene of 1920's Paris."—Georgia Hunter, New York Times bestselling author of We Were the Lucky Ones