The Seduction of Water (Paperback)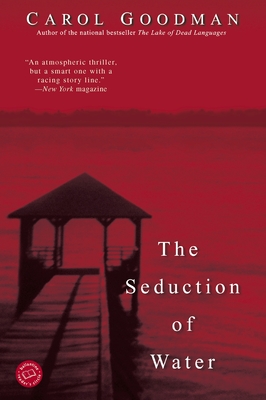 $18.70
This item is not currently available to order.
Description
---
Iris Greenfeder, ABD (All But Dissertation), feels the "buts" are taking over her life: all but published, all but a professor, all but married. Yet the sudden impulse to write a story about her mother, Katherine Morrissey, leads to a shot at literary success. The piece recounts an eerie Irish fairy tale her mother used to tell her at bedtime—and nestled inside it is the sad story of her death. It captures the attention of her mother's former literary agent, who is convinced that Katherine wrote one final manuscript before her strange, untimely end in a fire thirty years ago. So Iris goes back to the remote Hotel Equinox in the Catskills, the place where she grew up, to write her mother's biography and search for the missing manuscript—and there she unravels a haunting mystery, one that holds more secrets than she ever expected. . . .
About the Author
---
Carol Goodman is the author of The Lake of Dead Languages. Her work has appeared in such journals as The Greensboro Review, Literal Latté, The Midwest Quarterly, and Other Voices. After graduation from Vassar College, where she majored in Latin, she taught Latin for several years in Austin, Texas. She then received an M.F.A. in fiction from the New School University. Goodman currently teaches writing and works as a writer-in-residence for Teachers & Writers. She lives on Long Island.
Praise For…
---
"An atmospheric thriller, but a smart one with a racing story line."
—New York magazine

"GOTHIC MYSTERY . . . Seduction enchants with its fairy-tale motif and sensuous atmospherics."
—People (Page-turner of the week)

"TRULY A SEDUCTIVE READING EXPERIENCE . . . Grabs the reader on the first page and holds on for the entire journey."
—The Denver Post

"LIKE THE BEST MYSTERIES, The Seduction of Water offers puzzles and twists galore but still tells a human story."
—The Boston Globe

"[A] TAUT THRILLER . . .ANOTHER HOME RUN FOR CAROL GOODMAN . . .
The Seduction of Water combines folk tales and gothic horror with a thoroughly modern story. . . . Though this is the kind of book you'll stay up late reading, don't go so fast you miss the beautiful lyrical writing."
—Burlington Free Press

"The new novel more than redeems the promise of the first with a many-layered, subtle piece of fiction. . . . The reader steps into the story almost as one would step into a conversation with a good friend."
—The Denver Post

"Goodman's crisp, graceful writing keeps the reader engaged through the zigzagging plot. Lively and funny, Iris makes for a likable narrator. Throughout, the reader experiences pleasurable tension between wanting to find out what happens next and trying to savor the descriptions of place and people. . . . Fashioning one story from many, Goodman gives readers both an entertaining mystery and an intriguing glimpse into why we turn to stories in the first place."
—The Boston Globe

"Gripping . . . Entrancing . . . A completely involving mystery cleverly tied in with several fairy tales."
—Booklist

"VERY INTRIGUING AND SATISFYING."
—Charleston Post & Courier

"Alluring . . . [An] atmospheric page-turner. . . Combining dark fairy tale themes with a modern tale of suspense, Goodman succeeds in crafting another captivating mystery."
—Pages magazine

"With this exciting second book . . . Goodman establishes herself as a writer to watch in the field of literary thrillers."
—Library Journal(starred review)

"Mystery, folklore, a thoroughly modern romance, a strong sense of place, and a winning combination of erudition and accessibility make this second novel a treat."
—Publishers Weekly

"Goodman successfully plays along with the fairy-take formula but translates it so successfully that the world she creates—and the people who inhabit it—are entirely believable."
—Book Street USA