Arcadia Falls: A Novel (Paperback)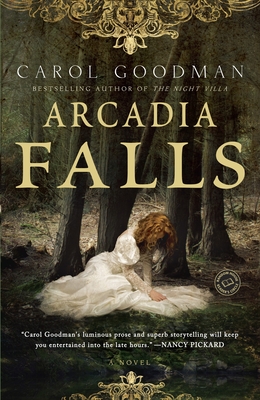 $16.50
This item is not currently available to order.
Description
---
Financial straits and a desire for a fresh start take recently widowed Meg Rosenthal and her aloof teenage daughter, Sally, to Arcadia Falls, a tucked-away hamlet in upstate New York where Meg has accepted a teaching position at a boarding school. The creaky, neglected cottage they'll be calling home feels like an ill omen, but Meg is determined to make the best of it. Then a shocking crisis strikes: During Arcadia's First Night bonfire, one of Meg's folklore students plunges to her death in a campus gorge. Sheriff Callum Reade finds the presumed accident suspicious, but then, he is a man with a dark past himself. Meg is unnerved by Reade's interest in the girl's death, and as long-buried secrets emerge, she must face down her own demons and the danger threatening to envelop Sally. As the past clings tight to the present, the shadows, as if in a terrifying fairy tale, grow longer and deadlier.
About the Author
---
Carol Goodman is the author of The Lake of Dead Languages, The Seduction of Water, The Drowning Tree, The Ghost Orchid, The Sonnet Lover, and The Night Villa. The Seduction of Water won the Hammett Prize, and others of her novels have been nominated for the Dublin/IMPAC Award and the Mary Higgins Clark Award. Her fiction has been translated into eight languages. She lives in New York State with her family.
Praise For…
---
 "Carol Goodman's luminous prose and superb storytelling will keep you entertained into the late hours."—Nancy Pickard

"Addictive . . . [Carol] Goodman delivers an engaging, original story."—The Boston Globe

"Gracefully written and engaging . . . Goodman specializes in atmospheric literary thrillers, and her newest book . . . is an especially fine specimen of its type."—The Denver Post
 
"[Goodman] gives her many fans a new dose of what she does best: good storytelling, with velvet swaths of Gothic mist and fairy-tale eeriness."—The Plain Dealer
 
"[A] moving story of mothers and daughters and the hard choices women must make . . . Goodman combines gripping suspense with strong characters and artistic themes. Those who read Anita Shreve or Jodi Picoult are likely to become fans."—Library Journal