Imperfect: An Improbable Life (Paperback)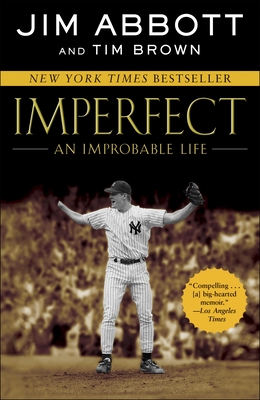 $19.80

Available in our Warehouse: Usually Ships in 3-8 Days
Description
---
"Honest, touching, and beautifully rendered . . . Far more than a book about baseball, it is a deeply felt story of triumph and failure, dreams and disappointments. Jim Abbott has hurled another gem."—Jonathan Eig, New York Times bestselling author of Luckiest Man
 
NEW YORK TIMES BESTSELLER
 
Born without a right hand, Jim Abbott dreamed of someday being a great athlete. Raised in Flint, Michigan, by parents who encouraged him to compete, Jim would become an ace pitcher for the University of Michigan. But his journey was only beginning: By twenty-one, he'd won the gold medal game at the 1988 Olympics and—without spending a day in the minor leagues—cracked the starting rotation of the California Angels. In 1991, he would finish third in the voting for the Cy Young Award. Two years later, he would don Yankee pinstripes and pitch one of the most dramatic no-hitters in major-league history.
 
In this honest and insightful book, Jim Abbott reveals the challenges he faced in becoming an elite pitcher, the insecurities he dealt with in a life spent as the different one, and the intense emotion generated by his encounters with disabled children from around the country. With a riveting pitch-by-pitch account of his no-hitter providing the ideal frame for his story, this unique athlete offers readers an extraordinary and unforgettable memoir.
 
"Compelling . . . [a] big-hearted memoir."—Los Angeles Times
 
"Inspirational."—The Philadelphia Inquirer
 
Includes an exclusive conversation between Jim Abbott and Tim Brown in the back of the book.
About the Author
---
Jim Abbott was a major league pitcher with the Los Angeles Angels and the New York Yankees, among other teams. Born in 1967, he was an All-American at Michigan; won a gold medal with the 1988 Olympic baseball team; and threw a no-hitter at Yankee Stadium in 1993. He retired in 1999. Abbott has worked with the Department of Labor's Office of Disability Employment Policy, has been a guest pitching instructor for the Los Angeles Angels, and has appeared as a motivational speaker. He lives with his wife and two children in Anaheim.
 
Tim Brown is an award-winning writer with twenty years of experience covering Major League Baseball at the Los Angeles Times, The Star-Ledger, Cincinnati Enquirer, and Los Angeles Daily News. He studied journalism at the University of Southern California and Cal State Northridge, and currently works for Yahoo! Sports.
Praise For…
---
"Powerful."—Library Journal
 
"Funny, heartbreaking, and triumphant . . . Still, to label this fine book 'an inspiration' almost misses the point. Imperfect isn't about learning to cope with a disability. It's about becoming a man in America."—Mark Kriegel, author of Pistol: The Life of Pete Maravich and Namath: A Biography
 
"Terrific . . . Imperfect can teach all of us valuable lessons."—Cal Ripken, Jr.
 
"A story of how to fight, overcome and, ultimately, thrive."—Newsday