Eighty Days: Nellie Bly and Elizabeth Bisland's History-Making Race Around the World (Paperback)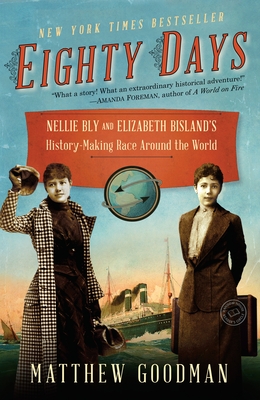 March 2013 Indie Next List
---
"Do you want to take a trip around the world without leaving your favorite chair? This is your chance! Goodman has created a vivid picture of the race to circumnavigate the globe made by two women journalists who were determined to turn Jules Verne's fictional journey into a reality. This one has it all -- a race between two formidable adventurers, visits to foreign lands, encounters with nature's foibles, and 19th century society in all of its glory, full of hope and clamoring for recognition. A wonderful read!"
— Linda Bond, Auntie's Bookstore, Spokane, WA
Description
---
NATIONAL BESTSELLER

On November 14, 1889, Nellie Bly, the crusading young female reporter for Joseph Pulitzer's World newspaper, left New York City by steamship on a quest to break the record for the fastest trip around the world. Also departing from New York that day—and heading in the opposite direction by train—was a young journalist from The Cosmopolitan magazine, Elizabeth Bisland. Each woman was determined to outdo Jules Verne's fictional hero Phileas Fogg and circle the globe in less than eighty days. The dramatic race that ensued would span twenty-eight thousand miles, captivate the nation, and change both competitors' lives forever.
 
The two women were a study in contrasts. Nellie Bly was a scrappy, hard-driving, ambitious reporter from Pennsylvania coal country who sought out the most sensational news stories, often going undercover to expose social injustice. Genteel and elegant, Elizabeth Bisland had been born into an aristocratic Southern family, preferred novels and poetry to newspapers, and was widely referred to as the most beautiful woman in metropolitan journalism. Both women, though, were talented writers who had carved out successful careers in the hypercompetitive, male-dominated world of big-city newspapers. Eighty Days brings these trailblazing women to life as they race against time and each other, unaided and alone, ever aware that the slightest delay could mean the difference between victory and defeat.
 
A vivid real-life re-creation of the race and its aftermath, from its frenzied start to the nail-biting dash at its finish, Eighty Days is history with the heart of a great adventure novel. Here's the journey that takes us behind the walls of Jules Verne's Amiens estate, into the back alleys of Hong Kong, onto the grounds of a Ceylon tea plantation, through storm-tossed ocean crossings and mountains blocked by snowdrifts twenty feet deep, and to many more unexpected and exotic locales from London to Yokohama. Along the way, we are treated to fascinating glimpses of everyday life in the late nineteenth century—an era of unprecedented technological advances, newly remade in the image of the steamship, the railroad, and the telegraph. For Nellie Bly and Elizabeth Bisland—two women ahead of their time in every sense of the word—were not only racing around the world. They were also racing through the very heart of the Victorian age.

Look for special features inside. Join the Random House Reader's Circle for author chats and more.
 
"What a story! What an extraordinary historical adventure!"—Amanda Foreman, author of A World on Fire
 
"A fun, fast, page-turning action-adventure . . . the exhilarating journey of two pioneering women, Nellie Bly and Elizabeth Bisland, as they race around the globe."—Karen Abbott, author of American Rose
 
"[A] marvelous tale of adventure . . . The story of these two pioneering women unfolds amid the excitement, setbacks, crises, missed opportunities and a global trek unlike any other in its time. . . . Why would you want to miss out on the incredible journey that takes you to the finish line page after nail-biting page?"—Chicago Sun-Times (Best Books of the Year)
 
"In a stunning feat of narrative nonfiction, Matthew Goodman brings the nineteenth century to life, tracing the history of two intrepid journalists as they tackled two male-dominated fields—world travel and journalism—in an era of incredible momentum."—Minneapolis Star Tribune
About the Author
---
Matthew Goodman is the author of two other nonfiction books, The Sun and the Moon: The Remarkable True Account of Hoaxers, Showmen, Dueling Journalists, and Lunar Man-Bats in Nineteenth-Century New York and Jewish Food: The World at Table. The recipient of two MacDowell fellowships and one Yaddo fellowship, he has taught creative writing at numerous universities and workshops. He lives in Brooklyn, New York, with his wife and children.
Praise For…
---
"What a story! What an extraordinary historical adventure!"—Amanda Foreman, author of A World on Fire

"A fun, fast, page-turning action-adventure . . . the exhilarating journey of two pioneering women, Nellie Bly and Elizabeth Bisland, as they race around the globe."—Karen Abbott, author of American Rose

"[A] marvelous tale of adventure . . . The story of these two pioneering women unfolds amid the excitement, setbacks, crises, missed opportunities and a global trek unlike any other in its time. . . . Why would you want to miss out on the incredible journey that takes you to the finish line page after nail-biting page?"—Chicago Sun-Times (Best Books of the Year)
 
"In a stunning feat of narrative nonfiction, Matthew Goodman brings the nineteenth century to life, tracing the history of two intrepid journalists as they tackled two male-dominated fields—world travel and journalism—in an era of incredible momentum. Jules Verne, train and ship travel, and international snapshots are included as Goodman laces biography with history in a book that has something for everyone."—Minneapolis Star Tribune
 
"Goodman writes exceedingly well. . . . Delightful . . . solid history . . . filled with energizing details. History lovers will eat it up."—Library Journal

"The true story of Nellie Bly and Elizabeth Bisland, two journalists racing to see who could circle the globe first—and faster than any man before them—is as riveting now as it was when it captivated the nation in 1889."—Parade

"Matthew Goodman takes readers on a riveting ride back to 1889 for the original amazing race. . . . Goodman's eighteen months of meticulous research and his compelling narrative nonfiction being their stories to life in vivid period detail."—American Way
 
"Lively and vivid . . . Goodman is a master storyteller, with no agenda to push, and his armchair tour is a treat to read."—The Columbus Dispatch
 
"In his delightful, well-researched book . . . Matthew Goodman brings to life the two women, the complicated, fast-changing times and the way the whole country was swept up in their parallel adventures. This is fully documented history, drawing on contemporary accounts, letters and the women's own writing, but Goodman crafts it into a page-turner."—Minneapolis Star Tribune
 
"Matthew Goodman's truly exciting account of [Bly's and Bisland's] journeys . . . is also quite a fun trip for his readers. He has the gift of turning meticulous research into vividly imagined details. . . . A fully satisfying portrait of the era."—Bust magazine
 
"[Eighty Days] is a dazzling tour of the world at a time when travel routes were just opening up; a look at sensationalist journalism and pop culture in pre-Kardashian America; and a testimony to how hard women had to fight to get work and achieve respect as journalists."—BookPage
 
"The story's engaging, the writing gripping, and the treatment—how Bly and Bisland are praised for combating sexism and denigrated for ignoring classism and embracing imperialism—is as clear-eyed as you can get. Well worth a read."—The Literary Omnivore
 
"Deftly mixing social history into an absorbing travel epic, Goodman conveys the exuberant dynamism of a very unfusty Victorian era obsessed with speed, power, publicity, and the breaking of every barrier."—Publishers Weekly
 
"A richly detailed double narrative of the adventures of two young women journalists in a race against time . . . entertaining and readable throughout."—Kirkus Reviews
We appreciate your continued support!
If you would like to make a donation to help us through CLICK HERE.