Witness: Lessons from Elie Wiesel's Classroom (Paperback)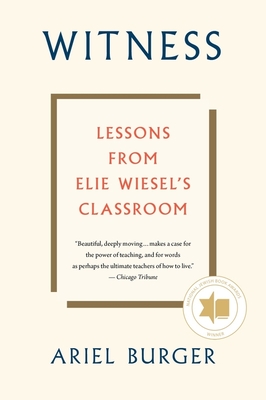 $15.99
Available in our Warehouse: Usually Ships in 3-8 Days
December 2018 Indie Next List
---
"Elie Wiesel — witness, writer, and humanitarian — wanted to be remembered foremost as a teacher. Ariel Burger, a longtime student, teaching assistant, and friend, has given us an intimate and moving portrait of this extraordinary man and the profound lessons he had to share."
— Dale Szczeblowski, Porter Square Books, Cambridge, MA
Description
---
WINNER OF THE NATIONAL JEWISH BOOK AWARD—BIOGRAPHY

In the vein of Tuesdays with Morrie, a devoted protégé and friend of one of the world's great thinkers takes us into the sacred space of the classroom, showing Holocaust survivor and Nobel Peace Prize recipient Elie Wiesel not only as an extraordinary human being, but as a master teacher.

"Witness is beautiful, and important . . . A superb piece of writing." — Parker Palmer, best-selling author of The Courage to Teach  

The world remembers Elie Wiesel—Nobel laureate, activist, and author of more than forty books, including Oprah's Book Club selection Night—as a great humanist. He passed away in July 2016.
 
Ariel Burger first met Elie Wiesel at age fifteen. They studied together and taught together. Witness chronicles the intimate conversations between these two men over decades, as Burger sought counsel on matters of intellect, spirituality, and faith, while navigating his own personal journey from boyhood to manhood, from student and assistant to rabbi and, in time, teacher.
 
In this profoundly hopeful, thought-provoking, and inspiring book, Burger takes us into Elie Wiesel's classroom, where the art of listening and storytelling conspire to keep memory alive. As Wiesel's teaching assistant, Burger gives us a front-row seat witnessing these remarkable exchanges in and out of the classroom. The act of listening, of sharing these stories, makes of us, the readers, witnesses. 
About the Author
---
ARIEL BURGER is a teacher, writer, and artist whose work focuses on education, spirituality, the arts, and strategies for social change. An ordained rabbi, Ariel received his PhD in Jewish Studies and Conflict Resolution under Elie Wiesel. A lifelong student of Professor Wiesel, Ariel served as his Teaching Fellow from 2003-2008, after which he designed educational initiatives at several nonprofits. Ariel travels the world lecturing and serving as a scholar/artist-in-residence, facilitating workshops for educators and leaders, and consulting to creative organizations. When Ariel's not learning or teaching, he is creating music, art, and poetry. He lives outside of Boston with his family.
www.arielburger.com 
Praise For…
---
Winner of the National Jewish Book Award—Biography 
An Indie Next List Pick
A Publishers Lunch Buzz Book

"A beautiful, deeply moving memoir...[a] complex, multilayered book...Burger's honest depiction of doubt — both Wiesel's and his own — is a great strength of this memoir, and its constant concern with the limited power of the individual is timeless. While Wiesel privately worried about the power of one person's words in the face of hatred, this book of questions and memories makes a case for the power of teaching, and for words as perhaps the ultimate teachers of how to live."
—Chicago Tribune

"Burger transports the reader to those salons of learning on the Charles River, where Wiesel's students over the years ranged from the granddaughter of a Nazi SS officer to a Korean minister in training...Unlike the best-selling 'Tuesdays with Morrie' – which highlighted author Mitch Albom's relationship with another Boston-area professor – Burger's book has a protagonist who was already world-famous. Witness does have a Wednesdays-with-Wiesel feel. Burger intersperses bits of his own life and background as he shares an album's worth of snapshots from Wiesel's time at BU. Burger's tone and execution are exactly what his title promises – and in keeping with the way Wiesel lived his life."
—USA Today, "New book shares Elie Wiesel's powerful classroom lessons from the Holocaust" 

"Any reader of Witness can now become another student of Wiesel's, and another witness, as it is clear that Ariel Burger has become a teacher with its publication."
—Tablet Magazine

"Inspiring and substantive...Amid all the Wiesel wisdom, Burger interweaves bits of his own autobiography, including his childhood and an account of the years he spent in Israel before his doctoral studies. Neither irrelevant nor self-indulgent, these strolls into memoir help establish Burger as a trustworthy and likable guide, a fellow learner who has invited us to sit next to him as we absorb hard-won knowledge about the shape of a good life from a sage. An insightful and winsome love letter—and, for newcomers to Wiesel, a good introduction."
—Kirkus Reviews

"Current, former, and future educators will love the glimpses into Wiesel's practices, such as the way he guided discussions on difficult but important topics—the tensions between faith and doubt, the relationship between rebellion and madness, and effective strategies for activism—and the personal attention he lavished on students...Burger's love for Wiesel, both professional and personal, shines through, and the reader will walk away with renewed admiration for this remarkable scholar, writer, survivor, and teacher." 
—Publishers Weekly
 
"A student of Wiesel's, Burger recounts how Wiesel lit his mind on fire. He later became Wiesel's teaching assistant and colleague, and this book parts the curtain on Wiesel's stimulating and lively classes, which challenged students...Readers will find their own preconceptions called into question, as though they were in class, too."
—Booklist

"Burger, a compassionate heart, fiery soul, and sharp religious mind in his own right, presents a personal side of Wiesel that we normally didn't see. This is the humane Wiesel, the Wiesel who nurtured students and who shook the foundations to demand more decency in society….We all know Wiesel the Activist who spent his life working for people suffering everywhere to protest injustice and oppression and to bear 'witness,' but there are other more personal dimensions to this story as well. Now we can see Wiesel the Soul. May we continue to be inspired by the life and teachings of Elie Wiesel. We owe Rabbi Dr. Ariel Burger our gratitude for this special opportunity."
—Jewish Journal

"In this thought-provoking book, Burger brings readers into Elie Wiesel's classroom, where the art of listening and storytelling conspired to keep memory alive. In the vein of Tuesdays with Morrie, Burger shows that Wiesel, a Holocaust survivor and Nobel Peace Prize recipient, was not only as an extraordinary human being, but a master teacher."
—Naperville Magazine

"A beautiful memoir about a master teacher. In Witness, Ariel Burger turns us all into Elie Wiesel's students. Readers will enjoy this book so much, they might not even realize how much they're learning from it. Bravo."
—Dr. Ruth Westheimer, author of The Doctor Is In

"When Elie Wiesel spoke the world listened.  His voice and words were crucial in the worldwide fight against terror, persecution, and genocide.  Ariel Burger gives readers a unique chance to hear Wiesel's private voice, the voice of the caring and loving teacher.  Burger takes us behind the scenes and we are better for it."
—Deborah E. Lipstadt, author of Antisemitism Here and Now 

"Elie Wiesel became the conscience for a world that had lost its moorings. In Witness, we are invited to experience an extraordinary yet mostly unseen dimension of this great figure — Elie Wiesel as teacher. In this profoundly personal account from one of his closest students, we see Wiesel communicating memory as a way of restoring morality to the process of learning . . . Wiesel raising difficult questions that help people grow more than any easy answers ever could . . . Wiesel the man of faith wrestling with God and sacred texts . . . Wiesel the witness turning his students into witnesses themselves. Witness brings a great and mythic being down to earth. Read this book and become a better person."
—Rabbi Irving Greenberg, author of The Jewish Way, and member of the President's Commission on the Holocaust and The National Jewish Center for Learning and Leadership alongside Elie Wiesel

"This book is beautiful and brilliant. The substance of Elie Wiesel's teaching will always be with us. Now, thanks to Ariel Burger—a writer of great spiritual and intellectual integrity—we have access to the way Wiesel taught generations of students, not only through his words but in the way he lived his life and held his relationships. Wiesel was a treasure of true humanity in the face of unspeakable suffering. This book is also a treasure, giving us clue after clue about how to transcend and transform the suffering of our own time, turning death into life."
—Parker J. Palmer, author of On the Brink of Everything, Healing the Heart of Democracy, and The Courage to Teach

"Burger recounts his inspiring relationship with Wiesel and the generous lessons he learned from him in this hopeful book."
—BookPage, "Most anticipated fall nonfiction"

"In his new book, Witness, Burger vividly situates the reader inside Wiesel's classroom. He shares details of the thought-provoking lectures as well as the heartfelt questions with which Wiesel challenged his students."
—Jewish Boston

"Offers enduring insights for today's struggles...The book focuses on one of the central principles of Wiesel's life and teaching: that great books, great philosophers, great literature—the big, enduring questions—can help us with the urgencies of day-to-day living."
—BU Today

"For health communicators, pharma executives, scientists, physicians, providers, and payers interested in learning how to calibrate their own ethical compass, a book expected to be released in November, Witness: Lessons from Elie Wiesel's Classroom, is one to place at the top of our reading lists. Witness is a moral education – 'a primer on educating against indifference, on the urgency of memory and individual responsibility'...It is not a business book; better, it is a guide for ethical behavior and should instill courage in the reader to make tough, necessary decisions." 
—MM&M

"This book was exactly what I was seeking with Elie Wiesel's memoirs: it summarises Wiesel's concise teachings on keeping history alive through morality and vulnerability. You're guaranteed to leave Ariel Burger's Witness with a changed perspective."
—Bookspoils
We appreciate your continued support!
If you would like to make a donation to help us through CLICK HERE.