A Trick of Light: Stan Lee's Alliances (Hardcover)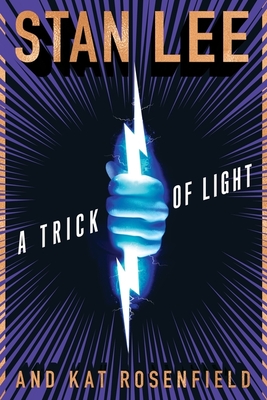 Description
---
From Stan Lee, the pop-culture legend behind Marvel's Avengers, Black Panther, X-Men, Spider-Man, Fantastic Four, and Iron Man, comes a major publishing event. One of the last creative acts of a master storyteller, A Trick of Light was first introduced in the best-selling audiobook Stan Lee's Alliances: A Trick of Light. The hardcover features exclusive content, including bonus chapters and an afterword by Alliances universe co-creators Luke Lieberman and Ryan Silbert.
 
Nia, a gifted but desperately lonely hacker, is living in isolation with her strict single dad. As a social-media maven, she is wildly popular and has more than a million friends. But they are all strangers who love her posts but know nothing about her that is real.

Cameron is on a quest for YouTube fame as a vlogger focusing on exploring the mysteries of Lake Erie. While recording his latest video, he is knocked out by lightning in a freak storm that appears to defy the laws of physics. When Cameron awakens, he discovers an astonishing cyberkinetic talent: the ability to manipulate computers and electronics with his mind.

After a chance meeting online, the two teenagers—one born with extraordinary gifts, one unwillingly transformed—join together to right wrongs in the world. As Nia and Cameron develop their powers and deal out reckonings, they draw the attention of dangerous forces, putting the future of the planet at risk.

Set in Stan Lee's Alliances Universe, co-created by Lee, Luke Lieberman, and Ryan Silbert, and written with Edgar Award–nominated author Kat Rosenfield, Stan Lee delivers a novel packed with the pulse-pounding, breakneck adventure and the sheer exuberant invention that have defined his career as the creative mastermind behind the spectacular Marvel universe.

"Leave it to Stan Lee to save his very best for last. A Trick of Light is as heartfelt and emotional as it is original and exciting. What a movie this one will make."—James Patterson
About the Author
---
STAN LEE was known to the world as the man whose superheroes propelled Marvel to its preeminent position in the entertainment industry. His co-creations included Spider-Man™, The Avengers™, Black Panther™, X-Men™, Iron Man™, The Incredible Hulk™, The Fantastic Four™, and hundreds of others. Lee continued to serve as Marvel Entertainment's Chairman Emeritus until his death in 2018. Lee was also the Chairman & Chief Creative Officer of Stan Lee's POW! Entertainment®, which he founded with production partner Gill Champion and Arthur Lieberman.

™All trademarks are owned by Marvel Entertainment, LLC.

KAT ROSENFIELD is a pop culture and political writer and the Edgar Award–nominated author of Amelia Anne is Dead and Gone (2012) and Inland (2014). A former reporter for MTV News, her work has appeared in outlets including Wired, Vulture, Entertainment Weekly, Playboy, US Weekly, and TV Guide.

LUKE LIEBERMAN is a writer and filmmaker who started his career in entertainment under the mentorship of Stan Lee. He is responsible for the relaunch of the Red Sonja franchise and overseeing more than 50 graphic novels; writing numerous issues himself, including the upcoming Red Sonja: Birth of a She-Devil for Dynamite Entertainment.

RYAN SILBERT is an award-winning author, filmmaker and founder of Origin Story Entertainment. Recent projects include God of Love (Oscar Winner) and Spike Lee's The Girl Is in Trouble; forthcoming projects include Stephen King's The Girl Who Loved Tom Gordon, a prestige slate of legacy projects from horror legend George A. Romero, in partnership with Sanibel Films, and a collaboration with James Patterson Entertainment.
Praise For…
---
"A rousing adventure novel that launches a franchise that's a parting gift from Stan the Man...fast-paced and highly entertaining...with a characteristically enthusiastic intro by Stan and a thoughtful afterword about the creative process by Lieberman and Silbert, this is a wild but inventive introduction to a new intergalactic struggle that promises more adventures to come....immersive, propulsive, and engaging in the ways that sometimes only comic books can be."—Kirkus Reviews

"Leave it to Stan Lee to save his very best for last. A Trick of Light is as heartfelt and emotional as it is original and exciting. What a movie this one will make."—James Patterson

"For lovers of Stan Lee this is nothing short of a publishing event! (And, honestly, who the hell doesn't love Stan Lee?) Beguiling, cinematic, operatic, A Trick of Light is a bracing espresso first thing in the morning and the thrum of a familiar love deep at night."—Gary Shteyngart, author of Absurdistan and Lake Success

"A Trick of Light is uncannily frightening, amazingly modern, incredibly moving and impossible to put down. READ THIS BOOK."—Gail Simone, writer of Wonder Woman, Deadpool, and Red Sonja