Gender, Space, and the Gaze in Post-Haussmann Visual Culture: Beyond the Flâneur (Paperback)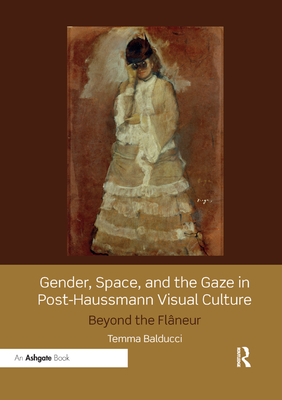 $71.44
This item is not currently available to order.
Description
---
Charles Baudelaire's fl neur, as described in his 1863 essay "The Painter of Modern Life," remains central to understandings of gender, space, and the gaze in late nineteenth-century Paris, despite misgivings by some scholars. Baudelaire's privileged and leisurely figure, at home on the boulevards, underlies theorizations of bourgeois masculinity and, by implication, bourgeois femininity, whereby men gaze and roam urban spaces unreservedly while women, lacking the freedom to either gaze or roam, are wedded to domesticity.
In challenging this tired paradigm and offering fresh ways to consider how gender, space, and the gaze were constructed, this book attends to several neglected elements of visual and written culture: the ubiquitous male beggar as the true denizen of the boulevard, the abundant depictions of well-to-do women looking (sometimes at men), the popularity of windows and balconies as viewing perches, and the overwhelming emphasis given by both male and female artists to domestic scenes. The book's premise that gender, space, and the gaze have been too narrowly conceived by a scholarly embrace of Baudelaire's fl neur is supported across the cultural spectrum by period sources that include art criticism, high and low visual culture, newspapers, novels, prescriptive and travel literature, architectural practices, interior design trends, and fashion journals.
About the Author
---
Temma Balducci is an Associate Professor of Art History at Arkansas State University. She was co-editor of and contributor to the companion volumes Interior Portraiture and Masculine Identity in France, 1789-1914 and Women, Femininity, and Public Space in Nineteenth-Century European Visual Culture.