Clinical Surveillance: The Actionable Benefits of Objective Medical Device Data for Critical Decision-Making (Himss Book) (Paperback)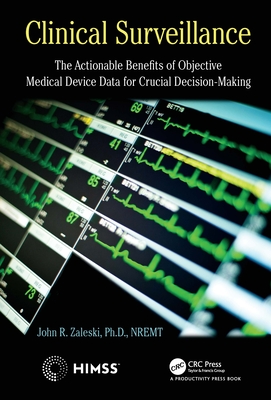 $76.93

Available in our Warehouse: Usually Ships in 3-8 Days
Description
---
For more than a decade, the focus of information technology has been on capturing and sharing data from a patient within an all-encompassing record (a.k.a. the electronic health record, EHR), to promote improved longitudinal oversight in the care of the patient. There are both those who agree and those who disagree as to whether this goal has been met, but it is certainly evolving. A key element to improved patient care has been the automated capture of data from durable medical devices that are the source of (mostly) objective data, from imagery to time-series histories of vital signs and spot-assessments of patients.
The capture and use of these data to support clinical workflows have been written about and thoroughly debated. Yet, the use of these data for clinical guidance has been the subject of various papers published in respected medical journals, but without a coherent focus on the general subject of the clinically actionable benefits of objective medical device data for clinical decision-making purposes. Hence, the uniqueness of this book is in providing a single point-of-capture for the targeted clinical benefits of medical device data--both electronic- health-record-based and real-time--for improved clinical decision-making at the point of care, and for the use of these data to address and assess specific types of clinical surveillance.
Clinical Surveillance: The Actionable Benefits of Objective Medical Device Data for Crucial Decision-Making focuses on the use of objective, continuously collected medical device data for the purpose of identifying patient deterioration, with a primary focus on those data normally obtained from both the higher-acuity care settings in intensive care units and the lower-acuity settings of general care wards. It includes examples of conditions that demonstrate earlier signs of deterioration including systemic inflammatory response syndrome, opioid-induced respiratory depression, shock induced by systemic failure, and more. The book provides education on how to use these data, such as for clinical interventions, in order to identify examples of how to guide care using automated durable medical device data from higher- and lower-acuity care settings. The book also includes real-world examples of applications that are of high value to clinical end-users and health systems.
About the Author
---
John Zaleski is Head of Clinical Informatics at Capsule Tech, Inc. John Zaleski brings 25+ years of experience in healthcare and medical device data principally as a researcher and, later, as a clinician, to improve the safety and care of patients and clinicians.