The Final Rewrite: How to View Your Screenplay with a Film Editor's Eye (Hardcover)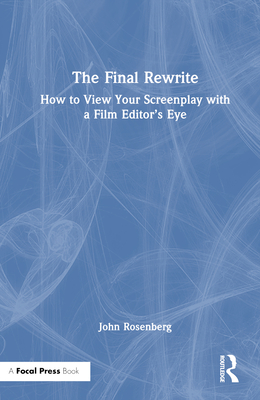 $224.00

Available in our Warehouse: Usually Ships in 3-8 Days
Description
---
This book offers a unique perspective on crafting your screenplay from an editor's point-of-view. Special features include before and after examples from preproduction scripts to post production final cuts, giving screenwriters an opportunity to understand how their screenplay is visualized in post production.
By the time a script reaches the editing room, it has passed through many hands and undergone many changes. The producer, production designer, director, cinematographer, and actor have all influenced the process before it gets to the editor's hands. Few scripts can withstand the careful scrutiny of the editing room. This book reveals how to develop a script that will retain its original vision and intent under the harsh light of the editing console. It provides insights that writers (as well as producers and directors) need and editors can provide for a safe journey from the printed page to the final release.
This book is ideal for aspiring and early career screenwriters, as well as filmmakers and established screenwriters who want to gain a better understanding of the editing process.
About the Author
---
John Rosenberg, ACE, MFA, is a film editor, writer and professor. He teaches the aesthetics of motion picture editing at USC's School of Cinematic Arts, where he is also the Core Curriculum Coordinator for undergraduate production. He has also taught extensively throughout Asia. For over 30 years, Rosenberg has worked as a feature film editor, as well as a writer, producer, and production executive, for such companies as 20th Century Studios, New Line Cinema, Alpine Pictures, Orion Pictures, and Artisan. He is a member of American Cinema Editors (ACE).Along with feature work, Rosenberg has written and edited a variety of reality-based TV projects, including for National Geographic. He is the author of the award-winning novel Tincture of Time, as well as the popular film book The Healthy Edit: Creative Editing Techniques for Perfecting Your Movie, currently in its second edition and recently translated into Mandarin.