Ibn Al-Arabi's Fusus Al-Hikam: An Annotated Translation of the Bezels of Wisdom (Routledge Sufi) (Paperback)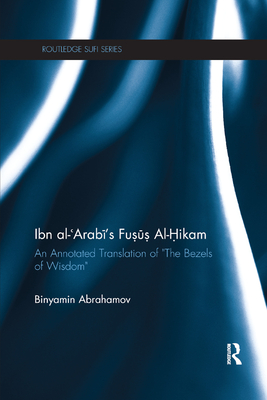 $76.93

Available in our Warehouse: Usually Ships in 3-8 Days
Description
---
Ibn al-Arabi's Fusus al-Hikam is a translation of one of the most important works written on Islamic Mysticism.
Muhyi al-Din Ibn al-Arabi (1165-1240) is deemed the greatest mystic of Islam and his mystical philosophy has attracted the attention of both Muslims and non-Muslims from his time to the present day. Believing that the world is the self- manifestation of God, he claimed that all religions are equal and that the perfect human being is he who knows all the religious phenomena in the world. Fusus al-hikam examines the singular characteristics of twenty seven prophets of Islam and constitutes the best summary of Ibn al-Arabi's thought. The translation of these twenty seven chapters is preceded by an introduction that explains the main ideas of Ibn al-Arabi and is accompanied by explanatory notes to the text.
Providing an easily accessible translation of one of the greatest mystics of Islam, Ibn al Arabi' Fusus al-Hikam is essential reading for students, scholars and researchers of Islamic Philosophy, Mysticism and Islamic Mysticism in particular.
About the Author
---
Binyamin Abrahamov is Emeritus Professor, Department of Arabic at Bar Ilan University. He has published five books including Divine Love in Islamic Mysticism (Routledge, 2003) and his research interests focus on Islamic Theology, Philosophy, Mysticism and Qur'anic exegesis.