The Isle of Youth: Stories (Paperback)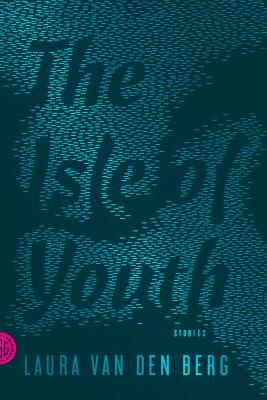 $18.70
This item is not currently available to order.
Description
---
Laura van den Berg's gorgeous new book, The Isle of Youth, explores the lives of women mired in secrecy and deception. From a newlywed caught in an inscrutable marriage, to private eyes working a baffling case in South Florida, to a teenager who assists her magician mother and steals from the audience, the characters in these bewitching stories are at once vulnerable and dangerous, bighearted and ruthless, and they will do what it takes to survive.

Each tale is spun with elegant urgency, and the reader grows attached to the marginalized young women in these stories—women grappling with the choices they've made and searching for the clues to unlock their inner worlds. This is the work of a fearless writer whose stories feel both magical and mystical, earning her the title of "sorceress" from her readers. Be prepared to fall under her spell.
An NPR Best Book of 2013
About the Author
---
Laura van den Berg is the author of the story collections What the World Will Look Like When All the Water Leaves Us, The Isle of Youth, and I Hold a Wolf by the Ears, which was named one the ten best fiction books of 2020 by TIME, and the novels Find Me and The Third Hotel, which was a finalist for the New York Public Library Young Lions Fiction Award and an Indie Next pick, and was named a best book of 2018 by more than a dozen publications. She is the recipient of a Guggenheim Fellowship, a Strauss Living Award and a Rosenthal Family Foundation Award from the American Academy of Arts and Letters, the Bard Fiction Prize, a PEN/O. Henry Award, and a MacDowell Colony Fellowship, and is a two-time finalist for the Frank O'Connor International Short Story Award. Born and raised in Florida, Laura splits her time between the Boston area and Central Florida, with her husband and dog.
Praise For…
---
"Wonder and mystery are recurring motifs. The women here are one step ahead of disaster or one step behind it, and either way they are eager to discover what's next . . . Van den Berg, in this wonderful collection, never lets us turn away." —Natalie Serber, The New York Times Book Review

"Confident, gripping stories . . . Ms. van den Berg spins complex plots around a sense of emotional emptiness. Her stories are bursting at the seams, while her characters are lonely to the core." —John Williams, The New York Times

"The stories in Laura van den Berg's dreamy The Isle of Youth are absolutely captivating." —Vanity Fair

"The Isle of Youth, is a smart, fun, noir-y treasure map of where families hide their secrets and lost souls hide themselves. Van den Berg somehow packs a duffel bag of plot into carry-on-size stories. She also has the right kind of range: from brutal to moving to funny, South America to Paris to Antarctica, really great to freaking outstanding." —Kathryn Schulz, New York Magazine

"Darting, shifting things . . . though her stories find footing in dark matter, the reader ends up feeling something akin to having been freed by the end of the reading . . . [a] tremendous collection." —Weston Cutter, Minneapolis Star Tribune

"If you like Murakami's cool prose, that Raymond Chandler-esque aloofness in the face of strange events, have I got the book for you . . . [The Isle of Youth] is a small book, but it feels much bigger. I could have kept reading for days." —Rosecrans Baldwin, NPR's All Things Considered

"Curiosity--sprung from idleness, neglect, or betrayal--is a force to be reckoned with in these delicately layered narratives linked by themes of mystery and survival …Van den Berg gracefully captures such unseen moments of triumph and failure as lives are derailed--and discovered--in her stories." —ELLE Magazine

"If you like your female protagonists quirky, questing, and quixotic, you will adore this story collection and the author's ability to bore into her characters' innermost thoughts, piercing straight through to their red-hot centers." —O, The Oprah Magazine

"van den Berg's sophomore collection of mysterious stories follows likeable ladies with dangerous behavior." —Marie Claire

"Amusing and absorbing…" —Glamour

"With her latest collection of seven stories, The Isle of Youth, Laura van den Berg gives readers a great place to maroon themselves…even though much remains unresolved, van den Berg's stories are still revelatory." —The Cleveland Plain Dealer

"…takes wry pleasure in reversing expected gender roles…Ms. van den Berg is perceptive about the ways that her characters--many of them demoralized wives--feel trapped within their identities and grasp at unwise escapes." —Sam Sacks, The Wall Street Journal

"A master of the short story creates seven elaborate worlds with beautiful and haunting characters at a time when it feels like most short story collections are pretty thinly plotted." —Esquire

"The small, genuine and insightful moments at the heart of each tale mark the progress of a distinguished young writer." —Time Out New York

"Van den Berg excels at complexity, ec­centricity, maximalism of plot . . . Her emphases on elaborate plot and inten­tional loose ends are a refreshing departure from the contemporary taste for tidy, mini­mal plot paired with maximal voices." —The New Inquiry

"You know how we're always going on about how this is a really good time for fans of short stories? Laura van den Berg is one of the best examples of why that is totally true, and this new collection on FSG should be all the proof you need. She is at the head of the pack when it comes to young writers that are more comfortable with the shorter form." —Jason Diamond, Flavorwire

"A sturdy short story collection works like a good album: strong piece by piece, but also on the whole. "I Looked for You, I Called Your Name" is as strong an opener as I've ever seen in a book of short stories, and it sets the tone and pace for the rest of Laura van den Berg's second work, The Isle of Youth." —Grantland

"If ever there was a writer going places, it's Laura van den Berg, who follows up her debut collection, What the World Will Look Like When All the Water Leaves Us, with the ambitious, modular The Isle of Youth, whose seven stories are arranged along the themes of family secrets with noirish intrigue." —Publisher's Weekly (starred review)

"A mesmerizing collection of stories about the secrets that keep us." —Kirkus

"In The Isle of Youth, a group of young women narrators seek to understand the people in their lives as a means of understanding themselves. Magically, Laura van den Berg turns a group of lost souls into a beautiful and compelling read." —Ann Patchett, author of State of Wonder and Bel Canto

"Laura van den Berg is one of the most freakishly talented young writers at work today, and a master of the short story form. Hers are deliciously unnerving, moving, and monstrous tales." —Karen Russell, author of Vampires in the Lemon Grove and Swamplandia!

"I've never met Laura, but it seems like we would come across a new story by her every month or so during our reading for Best American Nonrequired Reading. They were uniformly excellent--emotionally complex, very raw--but always with a mixture of pathos and humour that made me think of Lorrie Moore." —Dave Eggers, Huck magazine

"The Isle of Youth is simply astonishing. Each story is more surprising, more urgent, more savagely frank than the last. This is an awe-inspiring and necessary collection from one of the most sure-footed writers of our time." —Claire Vaye Watkins, author of Battleborn

"This collection is rich, surprising, and a lot of fun. The Isle of Youth plays with crime stories of a kind, noir tales of deceit and betrayal, but really each investigates the spaces, the distances, that keep human beings from ever truly knowing one another. Van den Berg is a ridiculously talented writer, and this wonderful book provides the proof." —Victor LaValle, author of The Devil in Silver