Balcony on the Moon: Coming of Age in Palestine (Hardcover)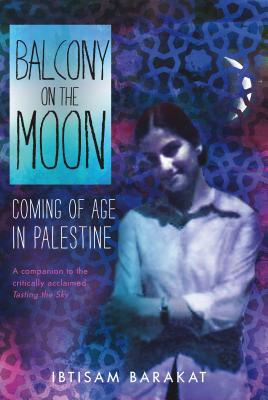 $19.79
This item is not currently available to order.
Description
---
Picking up where Tasting the Sky left off, Balcony on the Moon follows Ibtisam Barakat through her childhood and adolescence in Palestine from 1972-1981 and chronicles her desire to be a writer.

A Junior Library Guild Selection
A Palestine Book Award Shortlist Selection
A VOYA Nonfiction Honor Roll Selection
A Skipping Stones Honor Book
An Arab-American National Museum Honor Book
A Bank Street College of Education Best Book
An American Library Association/Amelia Bloomer Project Top Ten Book
A Notable Book for a Global Society
A News & Observer Newspaper's Wilde Best Book Award Winner
A Middle East Book Award Honorable Mention

In this follow-up to Tasting the Sky, a young Ibtisam finds inspiration through writing letters to pen pals and from an adult who encourages her to keep at it, but the most surprising turn of all for Ibtisam happens when her mother decides that she would like to seek out an education, too. This memoir is a touching, at times funny, and enlightening look at the not often depicted daily life in a politically tumultuous area.

A Margaret Ferguson Book
About the Author
---
A bilingual speaker of Arabic and English, Ibtisam Barakat grew up in Ramallah, West Bank, and now lives in the United States. Her work focuses on healing social injustices and the hurts of wars, especially those involving young people. Ibtisam emphasizes that conflicts are more likely to be resolved with creativity, kindness, and inclusion rather than with force, violence, and exclusion. Her educational programs include Growing Up Palestinian; Healing the Hurts of War; The ABCs of Understanding Islam; Arab Culture, The Mideast Conflict; and Building Peace. The ABCs was selected by the Missouri Humanities Council as one of its Speaker Bureau programs in 2003 and 2004.

Ibtisam has taught language ethics courses -- Language Uses and Abuses -- at Stephens College (2002). She is also the founder of Write Your Life (WYL) seminars and has led WYL seminars in places including Morocco, Washington, D.C., Missouri, and Ramallah.

In 2001, Ibtisam was a delegate to the third United Nations conference on the elimination of racism, which was held in Durban, South Africa. In 2004, she was a visiting writer at the Creativity for Peace camp, which brought Israeli and Palestinian teenage girls to Santa Fe to provide an opportunity for them to live together in cooperation and peace. In January 2005, she was a moderator at the fourth international Faculty for Israeli-Palestinian Peace conference in Jerusalem, where Israeli, Palestinian, and international faculty members and students work toward finding creative ways to bring about peace for Israel and Palestine.

As an educator, poet, and peace activist, Ibtisam has spoken at the Center for Southern Literature / Margaret Mitchell House and Museum; William Woods College; Missouri Historic Theater; Dartmouth College; Printers Row Book Fair in Chicago; PEN New England; National Writers Union / New Jersey chapter; the International Children's Literature Day / University of Wisconsin; Children's Literature New England / Williams College; North Carolina Center for Advancement of Teaching; Reading the World / University of San Francisco; and various high schools, including the school district of Anchorage, Alaska.

Ibtisam Barakat lives in Columbia, Missouri. TASTING THE SKY is her first book.
Praise For…
---
"Lyrical and moving, Barakat's first-person, present-tense story catapults the reader into a time when political tensions and the battle for human rights rage on, and the fight, not only for survival, but to have a voice is in full swing. Not to be missed, this memoir is a wonderful additional to any library." —VOYA, starred review

"Divided into five parts correlating with the family's five homes, the book captures Barakat's growing understanding of the complex dynamics in her parents' marriage, her outrage at gender-based restrictions, and her determination not to live a life like that of her mother. When her willingness to question and explore opens doors for her, Barakat receives encouragement and support from surprising sources, validating her sister's statement that 'being Palestinian teaches you to be ready for any destiny.' This is a compelling personal history, brimming with humor, wisdom, and empathy." —Publishers Weekly, starred review

"Told in a first-person, present-tense voice, the episodic narrative deftly combines personal and political events. . .A pervasive sense of loss informs much of her childhood, with a growing realization that no promising future exists for her or her siblings in Palestine. A poetic, deeply felt coming-of-age story." —Kirkus, starred review

"In this sequel to Tasting the Sky (2007), a memoir and winner of the Arab American Book Award, Barakat moves beyond her early school years during the Six-Day War and its uprooting aftermath. She focuses on the years 1971–81, when she—a feisty protofeminist—and her family shifted about in the occupied West Bank, trying to find a place that felt safe and like home...The beauty of the writing is its clear-eyed matter-of-fact-ness. Barakat doesn't plead for sympathy (political or emotional); she just recalls, in concrete detail, this particular world as she experienced it as a young woman, and the result is as inspiring as it is engrossing." —Booklist

"Barakat's lovely, lyrical style depicts an adolescence that will be simultaneously familiar to readers in its universal themes (struggle to become one's own person, family life and its usual squabbles) and very different in its backdrop of 1970s Palestine. . .At times humorous and heartbreaking, this work will immerse readers in Barakat's experience, leaving them with—perhaps—a broadened worldview. . . Highly recommended for upper middle school and high school libraries." —School Library Journal