Traitor: A Novel of World War II (Hardcover)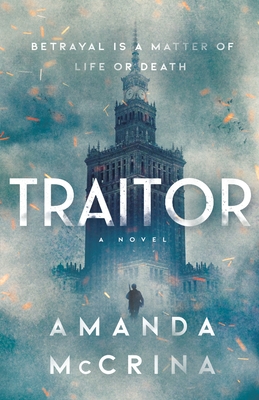 $18.99
This item is not currently available to order.
Description
---
Amanda McCrina's Traitor is a tightly woven YA thrill ride exploring political conflict, deep-seated prejudice, and the terror of living in a world where betrayal is a matter of life or death.

"Alive with detail and vivid with insight, Traitor is an effortlessly immersive account of a shocking and little-known moment in the turbulent history of Poland and Ukraine—and ironically, a piercing and bittersweet story of unflinching loyalty. I think Tolya has left my heart a little damaged forever." —Elizabeth Wein, #1 New York Times–bestselling author of Code Name Verity and The Enigma Game

Poland, 1944. After the Soviet liberation of Lwów from Germany, the city remains a battleground between resistance fighters and insurgent armies, its loyalties torn between Poland and Ukraine.

Seventeen-year-old Tolya Korolenko is half Ukrainian, half Polish, and he joined the Soviet Red Army to keep himself alive and fed. When he not-quite-accidentally shoots his unit's political officer in the street, he's rescued by a squad of Ukrainian freedom fighters. They might have saved him, but Tolya doesn't trust them. He especially doesn't trust Solovey, the squad's war-scarred young leader, who has plenty of secrets of his own.

Then a betrayal sends them both on the run. And in a city where loyalty comes second to self-preservation, a traitor can be an enemy or a savior—or sometimes both.

This title has common core connections.
About the Author
---
Amanda McCrina is a writer, historian, and bookseller. She holds a degree in history and political science from the University of West Georgia. Her novels include Traitor, The Silent Unseen—named a School Library Journal Best Book of the Year 2022—and I'll Tell You No Lies, a Junior Library Guild Gold Standard Selection. She lives outside Nashville, Tennessee.
Praise For…
---
"Alive with detail and vivid with insight, Traitor is an effortlessly immersive account of a shocking and little-known moment in the turbulent history of Poland and Ukraine—and ironically, a piercing and bittersweet story of unflinching loyalty. I think Tolya has left my heart a little damaged forever." —Elizabeth Wein, #1 New York Times Bestselling Author of Code Name Verity and The Enigma Game

"The World War II-themed YA thriller you've been waiting for." —Entertainment Weekly

"A complex plot full of double crosses and unexpected alliances . . . Deftly explores poignant questions about the nature of loyalty in desperate circumstances." —Kirkus Reviews

"Fans of Wein's Code Name Verity won't want to miss this powerful story about the desperate actions we take in the name of loyalty and survival." —The Bulletin for the Center of Children's Books

"This riveting WWII novel starts with a literal bang. . .Crisp writing plunges readers into a brutal world rife with deception, betrayal. . .and occasional glints of compassion. . .To dig much deeper into specifics would detract from the pleasure of this novel's hairpin twists, which begin early and continue to the final pages. An intricate depiction of a region whose complex history is likely to be unfamiliar to many in the United States." —Publishers Weekly

"Traitor will turn even the most casual reader into a history buff . . . It WILL grab you by the throat on page one and never let go . . . It reminds us that during wartime our heroes can become villains; that our villains can become heroes. Traitor reminds us that the most precious resource lost during wartime is our humanity. It reminds us that one side's traitor is another side's hero." —Kathleen March, Anderson's Bookshop, Downers Grove, IL

"A raw, unapologetic story of survival that will keep you on the edge of your seat until the very last page. This book is perfect for lovers of historical fiction, especially stories centered around World War II." —Colleen Regan, An Unlikely Story, Plainville, MA

"Traitor is a book that both illuminates the wide breadth of stories that were shaped by the trauma of World War II, and confirms that at the heart of it we are all tied together in a single web. Questioning what defines our identity—our experiences or our heritage—and how far we are willing to go to find this answer, McCrina does not attempt to offer her readers any solutions, but with her compelling prose she plants seeds that will continue growing long after the final page." —Stephanie Heinz, Print: A Bookstore, Portland, ME