Three Poems (Paperback)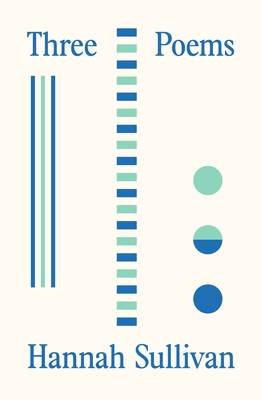 $16.50
This item is not currently available to order.
Description
---
Three Poems, Hannah Sullivan's debut collection, which won the 2018 T. S. Eliot Prize, reinvents the long poem for a digital age.

"You, Very Young in New York" paints the portrait of a great American city, paying close attention to grand designs as well as local details, and coalescing in a wry and tender study of romantic possibility, disappointment, and the obduracy of innocence. "Repeat Until Time" shifts the scene to California and combines a poetic essay on the nature of repetition with an enquiry into pattern-making of a personal as well as a philosophical kind. "The Sandpit After Rain" explores the birth of a child and death of a father with exacting clarity.
About the Author
---
Hannah Sullivan lives in London and teaches English at Oxford. She studied Classics at Cambridge, and then lived in the United States for a decade. Three Poems is her debut collection. It was awarded the 2018 T. S. Eliot Prize and the John Pollard Foundation International Poetry Prize.
Praise For…
---
"If you are missing cocktail bars, New York City before the shutdown or simply pellucid and startlingly intelligent poetry, Three Poems is a book for you . . . Her frame of reference is effortlessly wide . . . The small, pointed brushes that artists use are known as 'brights'; Sullivan seems to own one hundred thousand of them."
—Dwight Garner, The New York Times Book Review

"The influence of writers like T. S. Eliot and W. H. Auden abounds in Sullivan's long stanzas and page-width lyrics, which are littered with pitch perfect images, succinct turns of phrase, and exquisitely captured sentiments. ... At times playful and humorous, Sullivan skillfully shifts gears to poignant and profound. ... An antithesis to abbreviated Twitter poetry, Sullivan's lyrics are nonetheless accessible and exceptionally rewarding."
—Diego Báez, Booklist (Starred Review)

"Sullivan's voice has a suppleness that canters within the formal constraints she imposes on it... She's an exquisite image-maker and analogist."
—The New York Review of Books

"Three Poems is a richly rewarding collection that shows all the confidence and skill of a poet writing in their prime: it is hard to believe this is a first book."
—Paul Batchelor, The Spectator

"A magnificent debut . . . Assured, cool, and anthropological in its focus on a life lived via distinct stages and in discreet contexts. The elasticity of her poetic gift—the sheer range of what she can make language do and say—coupled with formal mastery, ensures we'll be reading this collection for years to come."
—Citation for the 2018 T. S. Eliot Prize

"Hannah Sullivan's majestic debut offers three big pictures—birth, coming of age and death—but this isn't a triptych. Instead, these themes extend across the book, with the poems acting as a set of transparencies that enlarge and complicate one another . . . Her authority, reach and ambition are exhilarating. Her metaphorical scope is that of the internet."
—Lavinia Greenlaw, London Review of Books

"[Sullivan] writes freshly about everything, including sameness. She is a sensual conjurer of atmospheres—writing almost as a poet-restaurateur. On a single page: cloves, rainstorm, peanut oil, ozone, brandy, frost, freezing blood and peaches 'sitting with their bruises'—each with its own tang . . . Sullivan's poems are as intense as Edward Hopper's paintings."
—Kate Kellaway, The Guardian