Latin American Folktales: Stories from Hispanic and Indian Traditions (The Pantheon Fairy Tale and Folklore Library) (Paperback)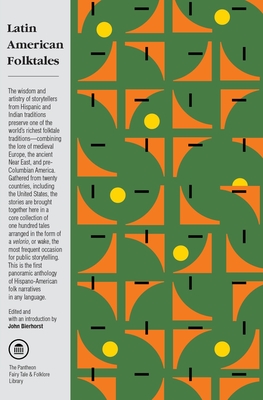 $21.00
This item is not currently available to order.
Description
---
The wisdom and artistry of storytellers from Hispanic and Indian traditions preserve one of the world's richest folktale traditions—combining the lore of medieval Europe, the ancient Near East, and pre-Columbian America. Gathered from twenty countries, including the United States, the stories are brought together here in a core collection of one hundred tales arranged in the form of a velorio, or wake, the most frequent occasion for public storytelling. This is the first panoramic anthology of Hispano-American folk narratives in any language.

Part of the Pantheon Fairy Tale and Folklore Library
About the Author
---
JOHN BIERHORST is the author, editor, or translator of more than thirty books on Native American lore, including Latin American Folktales, The Mythology of South America, The Mythology of North America, and The Mythology of Mexico and Central America.
Praise For…
---
"A cornucopia of magic and myth . . . Beware, for the pages of this volume—filled with tricksters, witches, and ghosts—are enchanted!"
—Ilan Stavans
 
 "Delightful . . . A rich and magical history of Hispanic and Indian traditions in the Americas. There is enough magic in this book to please everyone."
—The Virginian-Pilot
  
"Beware. This book has the ability to cast spells. After about a dozen pages, the reader slips from the present and into a magical time and place. Bierhorst has written many books based on Latin American lore, and [this] may well be his best. He approaches his subject matter with respect and humor, [and] the result is a panoramic anthology retaining the magic and allure that are the hallmarks of oral storytelling."
—Arizona Daily Star

"Bierhorst is a prolific folklorist who specializes in making oral traditions from a variety of cultures accessible to the general reading public. Each reader is certain to find favorites of his or her own."
—Richmond Times-Dispatch