The Gardener's Year (Modern Library Gardening) (Paperback)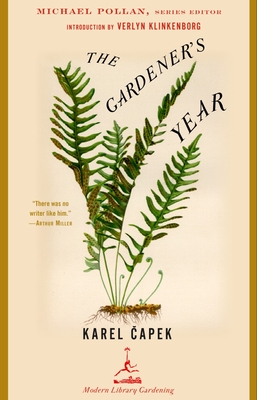 $17.60
Available in our Warehouse: Usually Ships in 3-8 Days
Description
---
From the internationally acclaimed Czech writer Karel Capek comes this beautifully written and marvelously apt account of the trials and tribulations of the gardener's life. First published in Prague in 1929, The Gardener's Year combines a richly comic portrait of life in the garden, narrated month by month, with a series of delightful illustrations by the author's older brother and collaborator, Josef. Capek's gardeners—all too human, despite their lofty aspirations—often look the fool, whether they be found sopping wet, victims of the cobralike water hose, or hunched over, hands immersed in the soil, "presenting their rumps to the splendid azure sky." In their repeated folly, Capek gives us not only cause for laughter but also, in the end, "testimony of the imperishable and miraculous optimism of the human race."

This Modern Library edition is published with a new Introduction by Verlyn Klinkenborg, a New York Times editorialist and the author of Making Hay and The Last Fine Time.
About the Author
---
Karen Capek is widely considered the greatest Czech author of the first half of the twentieth century. A novelist, short-story writer, playwright, and essayist, he was a strong dissident voice during the period of fascist buildup in Europe between the World Wars. Most famous for his play R.U.R., which coined the word "robot," he wrote a number of satires, as well as the utopian fantasy novel War with the Newts. He died in 1938.

Michael Pollan is the author of the New York Times bestseller The Botany of Desire and Second Nature, named one of the best gardening books of the twentieth century by the American Horticultural Society. He is a contributing editor to Harper's magazine and a contributing writer at The New York Times Magazine. Pollan chose the books for the Modern Library Gardening series because, as he writes, "these writers are some of the great talkers in the rich, provocative, and frequently uproarious conversation that, metaphorically at least, has been taking place over the back fence of our gardens at least since the time of Pliny."
Praise For…
---
"There was no writer like him." —Arthur Miller

"A charming and loving chronicle of the Czechoslovak playwright's backyard garden in Prague. . . . [A] funny but meaty little book." —The New York Times

"Capek's work has lost nothing of its freshness and luster." —The New York Times Book Review
We appreciate your continued support!
If you would like to make a donation to help us through CLICK HERE.