Flush (Paperback)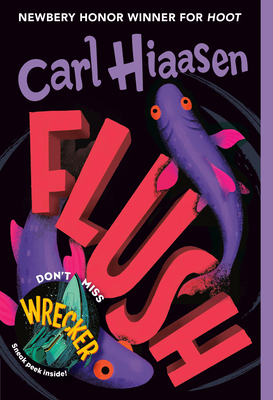 Description
---
Take a romp in the swamp with this New York Times bestselling mystery adventure set in the Florida Keys from Newbery Honoree Carl Hiaasen!

Noah's dad is sure that the owner of the Coral Queen casino boat is flushing raw sewage into the harbor—which has made taking a dip at the local beach like swimming in a toilet. He can't prove it though, and so he decides that sinking the boat will make an effective statement. Right. The boat is pumped out and back in business within days and Noah's dad is in the local lock-up.

Now Noah is determined to succeed where his dad failed. He will prove that the Coral Queen is dumping illegally . . . somehow.


"The writing is pitch perfect." —The New York Times
 
"A royal flush." —Chicago Sun-Times
 
"Classic Hiaasen—laugh-out-loud satire in a Florida setting." —Life
About the Author
---
Carl Hiaasen has been writing about Florida since his father gave him a typewriter at age six. Then it was hunt-and-peck stories about neighborhood kickball and softball games. Now Hiaasen writes a column for the Miami Herald and is the author of many bestselling novels, including Sick Puppy and Nature Girl.
 
Hoot, Hiaasen's first novel for young readers, was the recipient of numerous awards, including the prestigious Newbery Honor. Flush, his second book for kids, spent more than a year on the New York Times bestseller list. His latest offering for young readers is Scat, an eco-mystery set in the Florida Everglades.
 
You can read more about Hiaasen's work at www.carlhiaasen.com.
Praise For…
---
"Compulsively readable with a cleverly conceived resolution. . . . Fans ofspy stories, action, environmental intrigue, and, well, Hiaasen, will cheer forthis one." - The Bulletin