Daughter of the Centaurs (Hardcover)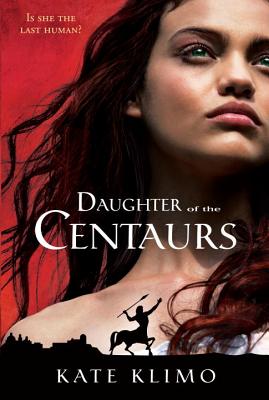 Other Books in Series
This is book number 1 in the Centauriad series.
kids Kids Indie Next List
---
"Orphaned after harpie-like creatures attack her home, Malora sets out with nothing but her father's horse, Sky, and the certain knowledge that she is the last human being in the world. She is as tough as the lions she has to fight off to protect her new family, a herd of horses that she adopts. On being captured by centaurs, Malora discovers an alternative to her lonely, desperate life in the wild, and she and her horses go to the centaurs' city. Written with the rhythm and imagination of a mythological tale, this first volume in a series promises a great deal of adventure yet to come!"
— Rebecca Waesch, Joseph-Beth Booksellers, Cincinnati, OH
Description
---
A new character joins the ranks of pwerful, kick-ass heroines such as those written by Tamora Pierce, Kristin Cashore, Esther Freisner, and Robin McKinley—Malora Ironbound. A great read also for anyone who loves horses and the Greek myths.

Malora knows what she was born to be: a horse wrangler and a hunter, just like her father. But when her people are massacred by batlike monsters called Leatherwings, Malora will need her horse skills just to survive. The last living human, Malora roams the wilderness at the head of a band of magnificent horses, relying only on her own wits, strength, and courage. When she is captured by a group of centaurs and taken to their city, Malora must decide whether the comforts of her new home and family are worth the parts of herself she must sacrifice to keep them.

Kate Klimo has masterfully created a new world, which at first seems to be an ancient one or perhaps another world altogether, but is in fact set on earth sometime far in the future.
About the Author
---
KATE KLIMO has two horses of her own and is an avid rider (as well as writer). She is the author of the Dragon Keepers series.
Praise For…
---
VOYA, February 2012:
"The first volume of a trilogy, the novel serves as an introduction to Malora and her world as she discovers and is accepted by the centaur society...[T]he setting is intriguing, and enough pieces are moved into place to entice the reader to return for the next chapter."

Tamora Pierce, bestselling author of Terrier:
"A wonderfully developed world, a determined girl hero, and a rarely covered subject—I was glued to every page."

Esther Friesner, author of Nobody's Princess:
"...takes you to a vividly realized world of wonders, dangers, and adventures with a thrilling conclusion that leaves you eager for more." 

The Bulletin, February 2012:
"In the vein of Robin McKinley's The Blue Sword."