Penny Dreadful (Library Binding)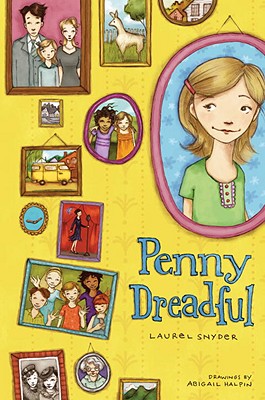 $25.99
This item is not currently available to order.
Winter 2011 Kids' Next List
---
"Snyder delights in showing us bright, curious kids making sense of the often-senseless world. Young Penny Grey is living a boring, controlled, and stifling life in the city when she makes a wish that something interesting would happen, 'just like in a book.' Her wish comes true when her impractical father quits his job to write a novel, plunging the family into poverty. This is a deeply human story about the importance of community and friendship, and it reminds us that a large and steady income is not essential for a strong and happy family life. Simply wonderful!"
— Rich Rennicks, Malaprop's Bookstore/Cafe, Asheville, NC
Description
---
The perfect book for girls and boys who look to find adventure and magic in surprising places
What if you were really bored with your life? What would you wish for?
Penelope Grey wishes for something anything interesting to happen, and here's what she gets:
Her father quits his job.
Her family runs out of money.
Her home becomes a pit of despair.
So Penelope makes another wish, and this time the Greys inherit a ramshackle old house in the middle of nowhere. Off they go, leaving the city and their problems behind them. Their new home is full of artists, tiny lions, unusual feasts, and true friends. Almost immediately, their lives are transformed. Penelope's mother finds an unexpected job, her father discovers a hidden talent, and Penelope changes her name
Penny's new life feels too magical to be real, too real to be magic. And it may be too good to last . . . unless she can find a way to make magic work just one more time if it even "was" magic.
"Any Which Wall" author Laurel Snyder introduces a quirky cast of characters as pleasantly strange as they are deeply real. Abigail Halpin adds to the charm with her distinctive line drawings.
Fans of Polly Horvath's "My One Hundred Adventures, " Ingrid Law's "Savvy, " and Jeanne Birdsall's "The Penderwicks" will be enchanted by Laurel Snyder's alternatively humorous and poignant look at small-town life and what it really takes to become a happy family.
"From the Hardcover edition.
About the Author
---
Laurel Snyder, like Penelope Grey, ran away to the mountains of East Tennessee at an impressionable age, where she (like Penelope) discovered a world of wonderful people, winding roads, lush foliage, and wishes-come-true. She now lives in Atlanta with her family, and online at www.LaurelSnyder.com. Her past works include "Up and Down the Scratchy Mountains, Inside the Slidy Diner, " and "Any Which Wall." Abigail Halpin grew up drawing in a tiny town on the Maine coast. Since that time she s lived in a faraway city and visited distant states, but never quite felt at home. With pens and pencils in tow, she moved back to where she grew up Wells, Maine. She spends her days drinking tea and illustrating, her work most recently appearing in "Maybe Yes, Maybe No, Maybe Maybe" by Susan Patron. "From the Hardcover edition.""