Save Yourself: A Novel (Paperback)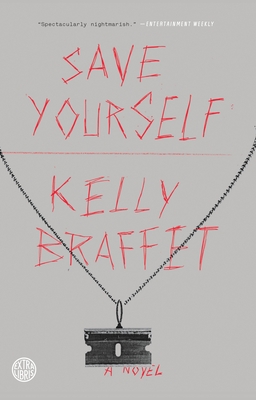 Staff Reviews
---
A gorgeous novel! Braffet's characters are stunning & heartbreaking.
There is real talent here, and I can't wait to read everything else she
has written.
— Suzanna
Description
---
A gripping novel full of suspense and pathos that Dennis Lehane calls an "electrifying, tomahawk missile of a thriller."

Patrick Cusimano's father killed a boy while driving drunk. Now Patrick is working at a grubby convenience store, and he and his brother, Mike, are the town pariahs. Caro, Mike's girlfriend, is running from her own painful past, with no idea what she's running toward. Layla Elshere is a goth teenager who befriends Patrick for reasons he doesn't understand and doesn't trust. And Layla's little sister, Verna, tortured by her classmates, finds unlikely solace with Layla's dark tribe of outcasts.
 
As their fates become entwined, everyone is set down a terrifying and twisted path—leading them all toward a collision where loyalties will be betrayed, fears exposed, and lives shattered.

Now with Extra Libris material, including recommended reading and bonus content
About the Author
---
KELLY BRAFFET is the author of Josie and Jack and Last Seen Leaving. She is a graduate of Sarah Lawrence College and Columbia University, where she received her MFA. Kelly lives in upstate New York with her husband, the writer Owen King.
Praise For…
---
"Enthralling. . . .This summer's must-read. . . . Braffet expertly captures the suffocating confines of small-town life and the desperation of its outliers, with prose that simmers and thrums. . . . The tension Braffet generates becomes nearly unbearable, and the conclusion, when it comes, feels satisfying and thoroughly earned." —Laura Miller, Salon

"There's storytelling skill to burn here. Ms. Braffet has empathy for her working-class characters and brings neglected places to convincing life." —New York Times

"Spectacularly nightmarish." —Entertainment Weekly

"Kelly Braffet is the real deal.  Save Yourself is an electrifying, tomahawk missile of a thriller with honest-to-God people at its core. It rocks the house." —Dennis Lehane, author of Live by Night

"Kelly Braffet's Save Yourself is that rare and beautiful thing—a novel that takes us to dark places not just through vivid storytelling but also through keen emotional force. It's a tale of damaged families and the perilous weight of the past, and as the action rushes towards its chilling conclusion, you'll find yourself breathless, shaken, moved." —Megan Abbott, author of Dare Me
 
"Astonishing.  Save Yourself goes deep into the hidden and shameful parts of grief, love, and anger, and the reader emerges shaken and grateful on the far end. It's a lacerating read, and proves that Braffet is a writer in full command of her many, many talents." —Emma Straub, author of Laura Lamont's Life in Pictures

"Braffet compassionately but honestly portrays engaging, confused characters in light, uncluttered prose. But a sharp turn keeps this from being a simple meditation on grief. This is a probing and emotional read that does not rest easy." —Bookpage
 
"Kelly Braffet's wonderful new book is about as dark and twisty as it gets . . . a creepy, squirmy, steamy, scary stew that simmers to its punishing but perfect conclusion." —Book Riot
 
"Excruciatingly rendered characters and locomotive plotting…The plot is on a collision course that is going to end ugly—but also, in Braffet's hands, beautifully…Perceptive, nervy, and with broad cross-genre appeal." —Booklist
 
"Braffet's captivating, realistically creepy third novel . . . uses graceful prose, astute dialogue, and vivid characters to carry the plot to an unexpected and believable finale." —Publishers Weekly (starred review)
 
"Through dark and hauntingly realistic moments, Braffet reveals a web of characters struggling to find themselves in a world rife with pain and rejection." —Brooklyn Daily Eagle
 
"Braffet is a sensual, concrete writer . . . Threads have been woven deftly into breathtaking all-natural horror . . . Psychological thriller fans will be ravenously awaiting her next book." —Chronogram