Weather: A novel (Hardcover)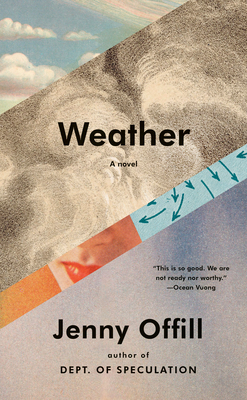 $23.95

Available in our Warehouse: Usually Ships in 3-8 Days
Staff Reviews
---
Jenny Offill does so much with so few words. This is a short book but there's a lot to think about here. Beautiful.
— Suzanna
Offill's vignette style of narration opens up a gap for the reader to slip in and access the emotional and psychological 'weather' of the novel, which, for me, is where the true power lies in this book. Anxiety about the state of the world and the future of the earth, worry about money & loved ones, simple joyful moments, the strangeness of being alive and the double strangeness of being alive right NOW. None of this is pushed on the reader, instead, Offill allows us to drift through someone else's consciousness and find parts of ourselves. To read this book is to become, for a moment, like a cloud.
— Lafe
February 2020 Indie Next List
---
"Brief and brilliant, Jenny Offill's Weather doesn't need page after page to trap us inside. Tearing through precision-crafted paragraphs, we willingly follow a Brooklyn librarian down a doomsday rabbit hole as she tries to limit the world's damage to those she loves. On the express bus to the demise of civilization, find a seat next to Lizzie for a wild and witty ride through the storm raging across America. An astute and satisfying read."
— Ann Woodbeck, Excelsior Bay Books, Excelsior, MN
Description
---
INSTANT NEW YORK TIMES BEST SELLER 

From the beloved author of the nationwide best seller Dept. of Speculation—one of the New York Times Book Review's Ten Best Books of the Year—a "darkly funny and urgent" (NPR) tour de force about a family, and a nation, in crisis

Lizzie Benson slid into her job as a librarian without a traditional degree. But this gives her a vantage point from which to practice her other calling: she is a fake shrink. For years she has tended to her God-haunted mother and her recovering addict brother. They have both stabilized for the moment, but Lizzie has little chance to spend her new free time with husband and son before her old mentor, Sylvia Liller, makes a proposal. Sylvia has become famous for her prescient podcast, Hell and High Water, and wants to hire Lizzie to answer the mail she receives: from left-wingers worried about climate change and right-wingers worried about the decline of western civilization.

As Lizzie dives into this polarized world, she begins to wonder what it means to keep tending your own garden once you've seen the flames beyond its walls. When her brother becomes a father and Sylvia a recluse, Lizzie is forced to address the limits of her own experience—but still she tries to save everyone, using everything she's learned about empathy and despair, conscience and collusion, from her years of wandering the library stacks . . . And all the while the voices of the city keep floating in—funny, disturbing, and increasingly mad.

"Offill's fragmentary structure evokes an unbearable emotional intensity: something at the core of the story that cannot be narrated directly, by straight chronology, because to do so would be like looking at the sun…" —The New York Times
About the Author
---
JENNY OFFILL is the author of the novels Last Things (a New York Times Notable Book of the Year and a finalist for the Los Angeles Times First Fiction Award) and Dept. of Speculation, which was shortlisted for the Folio Prize, the Pen-Faulkner Award, and the International Dublin Literary Award. She lives in upstate New York and teaches at Syracuse University and in the low-residency program at Queens University.
Praise For…
---
One of the Wall Street Journal Magazine's 10 must-read books this winter
Lit Hub's "14 Books You Should Read in February"
Esquire.com's "Best Books of 2020"
AV Club's "5 New Books to Read in February,"
New York Times' "14 New Books to Watch in February,"
Thrillist's "21 Books We Can't wait to Read in 2020,"
Good Housekeeping's "20 Best Books of 2020,"
PureWow's "13 Books We Can't Wait to Read in February."
Lit Hub – "14 Book You Should Read in February"
Vulture – "11 Notable New Releases"
Entertainment Weekly – "20 New Books to Read in February"
Hello Giggles – "11 Best New Books to Read in February"
Bustle – "22 Most Anticipated Books of February"

 
"Brilliant… Offill's writing is brisk and comic, and her book's format underlines her gifts. "Weather" is her most soulful book…  [Her] humor is saving humor; it's as if she's splashing vinegar to deglaze a pan."
—The New York Times

"Jenny Offill is the master of novels told in sly, burnished fragments... In Offill's hands, the form becomes something new, a method of distilling experience into its brightest, most blazing forms — atoms of intense feeling... these fragments feel like: teeming worlds suspended in white space, entire novels condensed into paragraphs... What she is doing is coming as close as anyone ever has to writing the very nature of being itself... "Weather" transforms the novel of consciousness into a record of climate grief."
--Parul Sehgal, The New York Times profile

"Time flies by in this wry story of a family—librarian Lizzie, her classics buff husband, their son, and her brother, a recovering addict. Apocalypse (climate and otherwise) looms over the narrative, and yet it is funny and hopeful too."
--Vanity Fair

"We named Offill's previous novel, the shrewd and genre-destroying Dept. of Speculation, as a book every woman should read; this follow-up, a sort of spiritual sequel, solidifies the author's place among the vanguard of writers who are reinvigorating literature."
--O The Oprah Magazine

"Compact and wholly contemporary, Jenny Offill's third novel sees a librarian find deep meaning and deep despair in her side gig as an armchair therapist for those in existential crisis, including liberals fearing climate apocalypse and conservatives fearing the demise of 'American values.' As she attempts to save everyone, our protagonist is driven to her limits, making for a canny, comic story about the power of human need."
--Esquire

"Tiny in size but immense in scope, radically disorienting yet reassuringly humane, strikingly eccentric and completely irresistible…utterly exhilarating in its wit and intelligence…luminous." 
--The Boston Globe

"Genius... [A] lapidary masterwork... Remarkable and resonant... The right novel for the end of the world."
--The LA Times

"Another perfectly wonderful trip inside the mind of Jenny Offill... [Her] fiction is such a pleasure to read... the funniness of many of her sentences indicates how precisely she calibrates them."
--Slate

"Ptent... Offill is a master of the glancing blow."
--NPR.org

"Glorious, dizzying, disconcerting and often laugh-out-loud hysterical"
--USA Today

"Always wry and wise. Offill offers an acerbic observer with a wide-ranging mind in this marvelous novel."
--Publishers Weekly (starred review)

"Clever and seductive . . . the "weather" of our days both real and metaphorical, is perfectly captured in Offill's brief, elegant paragraphs, filled with insight and humor. Offill is good company for the end of the world."
--Kirkus Reviews (starred review)

"Revelatory . . . Offill, who will delight fans of Lydia Davis and Joy Williams, performs breathtaking emotional and social distillation in this pithy and stealthily resonant tale of a woman trying to keep others, and herself, from "tipping into the abyss."
--Booklist (starred review)

"This is so good. We are not ready nor worthy."
--Ocean Vuong

"Jenny Offill writes beautiful sentences; she is also a deft curator of silences. It's this counterpoint of eloquence and felt absence that enables her to register the emotional and political weather of our present."
--Ben Lerner

"No one writes about the intersection of love and existential despair like Jenny Offill." 
--Jia Tolentino

"Jenny Offill conjures entire worlds with her steady, near-pointillist technique. One feels a whole heaving, breathing universe behind her every line. Dread, the sensation of sinking, lostness, and being cast away from any sense of safety infiltrates every interaction and private moment in this book, like ashes from the burning world she describes."
--Sheila Heti

"Novelists don't need to dream the end of the world anymore—they need to wake up to it. Jenny Offill is one of today's few essential voices, because she writes about essential things, in sentences so clipped and glittering it's as if they are all cut from one diamond."
--Jonathan Dee

"Weather is a beautiful book, both subtle and powerful. In writing, that's a superhuman feat. And now is exactly when we need the superhumans. Make haste. Read it."
--Lydia Millet


"There is no doubt that Jenny Offill is the writer for this particular historical moment. Weather is a tour de force of her considerable and startling gifts: the compressed and gorgeous sentences, the astounding comic timing, the profound and wise surprises. The miracle of this novel is how it looks at our contradictions and conditions with such bracing honesty and yet gives us a tender hopefulness toward these fraught humans. Offill makes us feel implicated but also loved."
--Dana Spiotta