Misconceptions: Truth, Lies, and the Unexpected on the Journey to Motherhood (Paperback)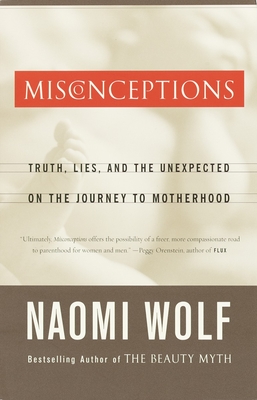 $16.95
Available in our Warehouse: Usually Ships in 1-5 Days
Description
---
In Misconceptions, bestselling author Naomi Wolf she demythologizes motherhood and reveals the dangers of common assumptions about childbirth. With uncompromising honesty she describes how hormones eroded her sense of independence, ultrasounds tested her commitment to abortion rights, and the keepers of the OB/GYN establishment lacked compassion. The weeks after her first daughter's birth taught her how society, employers, and even husbands can manipulate new mothers. She had bewildering post partum depression, but learned that a surprisingly high percentage of women experience it.

Wolf's courageous willingness to talk about the unexpected difficulties of childbirth will help every woman become a more knowledgeable planner of her pregnancy and better prepare her for the challenges of balancing a career, freedom, and a growing family. Invaluable in its advice to parents, Misconceptions speaks to anyone connected–personally, medically, or professionally–to a new mother.
About the Author
---
Naomi Wolf is the author of the best-selling The Beauty Myth, which helped to launch a new wave of feminism in the early 1990s and was named one of the most significant books of the twentieth century by The New York Times. She has since authored several other books, most recently Vagina: A New Biography. Wolf is co-founder of The Woodhull Institute for Ethical Leadership, an organization devoted to training young women in ethical leadership for the 21st century. The institute teaches professional development in the arts and media, politics and law, business and entrepreneurship as well as ethical decision making. She lives in New York City with her family.
Praise For…
---
"Ultimately, Misconceptions offers the possibility of a freer, more compassionate road to parenthood for women and men" -Peggy Orenstein, author of Flux

"'Misconceptions' documents a . . . subtle psychological journey. . . . Wolf's description of her own anguish and uncertainty can be as nuanced as good fiction." —The New York Times Book Review

"Essential reading." —Elle

"By laying bare one truth after the next–emotional, spiritual, psychological, pragmatic–this invaluable book gives women and their partners the information they so desperately need to make it through intact."–Andrew Solomon, author of The Noonday Demon

"Combines intimate experience and expose reporting. . . . Everyone who is giving birth or getting health care should read this book." —Gloria Steinem