Hissing Cousins: The Untold Story of Eleanor Roosevelt and Alice Roosevelt Longworth (Hardcover)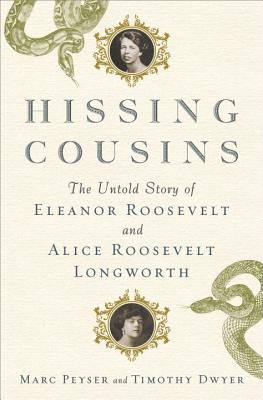 $31.85
This item is not currently available to order.
Description
---
A lively and provocative double biography of first cousins Eleanor Roosevelt and Alice Roosevelt Longworth, two extraordinary women whose tangled lives provide a sweeping look at the twentieth century.

When Theodore Roosevelt became president in 1901, his beautiful and flamboyant daughter was transformed into "Princess Alice," arguably the century's first global celebrity. Thirty-two years later, her first cousin Eleanor moved into the White House as First Lady. Born eight months and twenty blocks apart from each other in New York City, Eleanor and Alice spent a large part of their childhoods together and were far more alike than most historians acknowledge.

But their politics and temperaments couldn't have been more distinct. Do-gooder Eleanor was committed to social justice but hated the limelight; acid-tongued Alice, who became the wife of philandering Republican congressman Nicholas Longworth, was an opponent of big government who gained notoriety for her cutting remarks (she famously quipped that dour President Coolidge "looked like he was weaned on a pickle"). While Eleanor revolutionized the role of First Lady with her outspoken passion for human rights, Alice made the most of her insider connections to influence politics, including doing as much to defeat the League of Nations as anyone in elective office.

The cousins themselves liked to play up their oil-and-water relationship. "When I think of Frank and Eleanor in the White House I could grind my teeth to powder and blow them out my nose," Alice once said. In the 1930s they even wrote opposing syndicated newspaper columns and embarked on competing nationwide speaking tours. Blood may be thicker than water, but when the family business is politics, winning trumps everything.

Vivid, intimate, and stylishly written, Hissing Cousins finally sets this relationship center stage, revealing the contentious bond between two political trailblazers who short-circuited the rules of gender and power, each in her own way.
About the Author
---
Marc Peyser is a writer whose work has appeared in The New York Times, Life, Vogue, Time, the Huffington Post, Condé Nast Traveler, and the Best Business Writing 2003. He has also been an editor at Newsweek, Budget Travel, All You, and Money magazines.

Timothy Dwyer was raised on Long Island's Eaton's Neck, swimming distance from Theodore Roosevelt's homestead at Sagamore Hill. He studied history and politics at Georgetown University's School of Foreign Service and at the College of Europe in Bruges, Belgium. His work has appeared in Time, Washingtonian, and TheAtlantic.com. He is the chief executive officer of The School Choice Group, an education advisory company.
Praise For…
---
"A truly pleasurable new book ... The dual biography manages to give the reader what he or she wants—the juicy details of the spat—while simultaneously weaving the much bigger story of these dynamic women's impact in a time when having an impact as a woman was far from easy ... Peyser and Dwyer's tale is truly hard to put down." —The Daily Beast

"[R]ipping but poignant... [T]his voume reminds us just how punishing life in a presidential family can be." —TIME

"With aplomb, stylish prose and smart analysis, [Peyser and Dwyer] synthesize their sources smoothly into an entertaining and educational book. And by vividly blending the personal and the political, Peyser and Dwyer tell the cousins' story with insight, humor, empathy and wisdom. In so doing, they call on the best qualities of their subjects to produce a welcome and absorbing addition to the ever-growing canon of Rooseveltiana." —Richmond Times-Dispatch

"[C]lever, absorbing ... Peyser and Dwyer wisely avoid paying too much attention to the old theory that Alice was jealous of Eleanor for capturing Franklin, whom she wanted for herself. What Alice mostly felt was wild exasperation over the way political fate and circumstance set Franklin up as her father's wrongful heir ... [E]ntertaining and often shrewd." —The Washington Post

"[T]his new book focuses on a relationship that changed radically as these two women, both born in 1884, grew up and assumed their roles as leading figures in their respective political parties ... Both grab our sympathy as young women ... but in adulthood their differences couldn't be starker." —The Boston Globe

"[A] masterful chronicle of their lives and times." —The Washington Times

"Hissing Cousins unravels the Machiavellian question that would haunt both women in their path to power: is it better to be clever, or is it better to be good? ... [T]he one thing Alice and Eleanor certainly got out of their enmity was an unwavering belief in their own selves ... It turns out that even among women, a little healthy competition is a good thing." —The Guardian

"This is a brilliant idea for a book, brilliantly executed. With verve and insight, Marc Peyser and Timothy Dwyer have written a powerful and entertaining portrait of an important and overlooked American relationship. By charting the turbulent connection between Eleanor Roosevelt and Alice Roosevelt Longworth, Peyser and Dwyer take us inside a momentous family during momentous hours. A terrific read!" —Jon Meacham, Pulitzer Prize-winning author of Thomas Jefferson: The Art of Power

"Marc Peyser and Timothy Dwyer have hit upon a most ingenious angle on the endlessly revelatory Roosevelt family, yielding a vivid, occasionally mind-boggling view of the conflicting impulses in our national character. Their portrait of these first cousins at odds is one of the most entertaining accounts of serious history I've read, eliciting laughter, groans and ultimately a certain panoramic comprehension." —Diane McWhorter, Pulitzer Prize-winning author of Carry Me Home: Birmingham, Alabama, the Climactic Battle of the Civil Rights Revolution

"Hissing Cousins is just delicious—sharp, touching, funny, and wise. Marc Peyser and Timothy Dwyer have brought to life a pair of the great women of the twentieth century, in all their human flaws and glory." —Evan Thomas, author of Ike's Bluff: President Eisenhower's Secret Battle to Save the World

"This is the beautifully-rendered and absorbing story of the seventy-year family rivalry between two of the most compelling women of the twentieth century—one Democrat, one Republican, both fascinating." —Jonathan Alter, author of The Defining Moment: FDR's Hundred Days and the Triumph of Hope

"For much of the twentieth century Eleanor Roosevelt and Alice Longworth defined what it meant to be an influential woman in politics, although their personalities and styles could not have been more different. This part of the grand Roosevelt family saga has rarely been told, and never better." —H. W. Brands, author of Traitor to His Class: The Privileged Life and Radical Presidency of Franklin Delano Roosevelt

"A charming account of the fascinating relationship between two indomitable women of the 20th Century: Mrs, Democrat and Mrs. Republican." —Joyce Appleby, Professor Emerita, UCLA

"Peyser and Dwyer's detailed and witty double biography is hard to put down, a fascinating look at an era and two exceptionally strong, intelligent women." —Booklist, starred

"[A] compelling drama dimmed by the fog of time. The research is thorough and the prose is stylishly authoritative." —The Christian Science Monitor

"[M]anages to encapsulate the sweeping saga of the Roosevelt family within its covers in a clear and readable fashion." —Chicago Tribune

"[D]elightfully juicy ... The cousins' rivalry was well known in its day ... but this is the first account that gets into the nasty details. It's an enormously entertaining portrait, particularly of the acid­-tongued Alice, who finally — in this book — manages to steal back the show." —Columbia Magazine

"Marc Peyser and Timothy Dwyer have a can't-miss subject on their hands, and they bring the reader along for an exhilarating ride." —BookPage

"An entertaining retelling of a forgotten story, written for political junkies who enjoy the naughty and the nice." —Kirkus Reviews