My Sister, the Serial Killer: A Novel (Hardcover)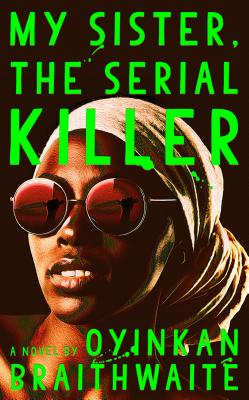 $22.95
Available in our Warehouse: Usually Ships in 1-5 Days
Staff Reviews
---
Try as she may, Korede cannot seem to keep her sister Ayoola from murdering her boyfriends. Ayoola just can't help it. With a twisted plot that will delight mystery readers and literary fiction fans alike, MY SISTER, THE SERIAL KILLER is one of my favorite books of the year.
— Suzanna
It is hard enough having a beautiful sister who bewitches men, but then she kills them and expects Korede to clean up after her. Ayoola wouldn't have the faintest idea how to get up all that blood or what to do with the bodies. Korede is tired of being the pragmatic, hard-working sister. And now Ayoola has her sights set on the one man Korede truly loves. Oh! The injustice siblings can engender is brutal. This is hilarious and beautifully written.
— Lisa
December 2018 Indie Next List
---
"My Sister, the Serial Killer is one of the best books to come along in quite a while — fast, funny, and completely engrossing. Oyinkan Braithwaite offers up a tale of Nigerian sisters Ayoola, a beautiful and sociopathic serial killer who destroys boyfriends, aware that all they ever want her for is her appearance, and Korede, a nurse whose average looks leave her continually passed up in preference for Ayoola. Still, taciturn and devoted Korede works hard to cover up her charming sister's crimes. What will happen when they both fall for the same guy? At once a page-turner and a perversely righteous tale about the emptiness of physical beauty and the superficiality of being charmed by it, My Sister, the Serial Killer is entertaining, provoking, and utterly fascinating!"
— Sarah Sorensen, Bookbug, Kalamazoo, MI
Description
---
"Pulpy, peppery and sinister, served up in a comic deadpan...This scorpion-tailed little thriller leaves a response, and a sting, you will remember."--NEW YORK TIMES

"The wittiest and most fun murder party you've ever been invited to."--MARIE CLAIRE

WINNER OF THE LOS ANGELES TIMES BOOK PRIZE FOR MYSTERY/THRILLER
SHORTLISTED FOR THE 2019 WOMEN'S PRIZE

A short, darkly funny, hand grenade of a novel about a Nigerian woman whose younger sister has a very inconvenient habit of killing her boyfriends

"Femi makes three, you know. Three and they label you a serial killer."

Korede is bitter. How could she not be? Her sister, Ayoola, is many things: the favorite child, the beautiful one, possibly sociopathic. And now Ayoola's third boyfriend in a row is dead.

Korede's practicality is the sisters' saving grace. She knows the best solutions for cleaning blood, the trunk of her car is big enough for a body, and she keeps Ayoola from posting pictures of her dinner to Instagram when she should be mourning her "missing" boyfriend. Not that she gets any credit.

Korede has long been in love with a kind, handsome doctor at the hospital where she works. She dreams of the day when he will realize that she's exactly what he needs. But when he asks Korede for Ayoola's phone number, she must reckon with what her sister has become and how far she's willing to go to protect her.

Sharp as nails and full of deadpan wit, Oyinkan Braithwaite's deliciously deadly debut is as fun as it is frightening.
About the Author
---
Oyinkan Braithwaite is a graduate of Creative Writing and Law from Kingston University. Following her degree, she worked as an assistant editor at Kachifo, a Nigerian publishing house, and as a production manager at Ajapaworld, a children's educational and entertainment company. She now works as a freelance writer and editor. In 2014, she was shortlisted as a top-ten spoken-word artist in the Eko Poetry Slam, and in 2016 she was a finalist for the Commonwealth Short Story Prize. She lives in Lagos, Nigeria.
Praise For…
---
"Feverishly hot." —PAULA HAWKINS, author of GIRL ON THE TRAIN

"Lethally elegant." —LUKE JENNINGS, author of KILLING EVE: Codename Villanelle

"Disturbing, sly and delicious." —AYOBAMI ADEBAYO, author of STAY WITH ME

"A taut, rapidly paced thriller that pleasurably subverts serial killer and sisterhood tropes for a guaranteed fun afternoon." —HUFFINGTON POST

"It's Lagos noir—pulpy, peppery and sinister, served up in a comic deadpan…This book is, above all, built to move, to hurtle forward—and it does so, dizzyingly. There's a seditious pleasure in its momentum. At a time when there are such wholesome and dull claims on fiction—on its duty to ennoble or train us in empathy—there's a relief in encountering a novel faithful to art's first imperative: to catch and keep our attention… This scorpion-tailed little thriller leaves a response, and a sting, you will remember." —PARUL SEHGAL, NEW YORK TIMES

"Campy and delightfully naughty…A taut and darkly funny contemporary noir that moves at lightning speed, it's the wittiest and most fun murder party you've ever been invited to." —SAM IRBY, MARIE CLAIRE
 
"Braithwaite's writing pulses with the fast, slick heartbeat of a YA thriller, cut through by a dry noir wit. That aridity is startling, a trait we might expect from someone older, more jaded—a Cusk, an Offill. But Braithwaite finds in young womanhood a reason to be bitter. At the center of these women's lives is a knot of pain, and when it springs apart, it bloodies the world." —NEW REPUBLIC

"This riveting, brutally hilarious, ultra-dark novel is an explosive debut by Oyinkan Braithwaite, and heralds an exciting new literary voice… Delicious." —NYLON

"You can't help flying through the pages.." —BUZZFEED

"Oyinkan Braithwaite is rewriting the slasher novel, and man, does it look good. My Sister, The Serial Killer is a wholly original novel where satire and serial killers brush up against each other… A terrific and clever novel about sisterhood and blurred lines of morality." —REFINERY29
 
"A rich, dark debut. . . . Evocative of the murderously eccentric Brewster sisters from the classic play and film "Arsenic and Old Lace," . . . Braithwaite doesn't mock the murders as comic fodder, and that's just one of the unexpected pleasures of her quirky novel. . . . A clever, affecting examination of siblings bound by a secret with a body count." —BOSTON GLOBE

"A biting mix of wickedness and wit, Oyinkan Braithwaite weaves her narrative with a confidence that you've never read anything quite like it." —INSTYLE

"Braithwaite's blazing debut is as sharp as a knife...bitingly funny and brilliantly executed, with not a single word out of place." —PUBLISHERS WEEKLY, (starred review)

"Strange, funny and oddly touching...Pretty much perfect...It wears its weirdness excellently." —LITHUB

"Who is more dangerous? A femme fatale murderess or the quiet, plain woman who cleans up her messes? I never knew what was going to happen, but found myself pulling for both sisters, as I relished the creepiness and humor of this modern noir." —HELEN ELLIS, author of AMERICAN HOUSEWIFE

"A gem, in the most accurate sense: small, hard, sharp, and polished to perfection. Every pill-sized chapter is exemplary." —EDGAR CANTERO, author of MEDDLING KIDS

"Sly, risky, and filled with surprises, Oyinkan Braithwaite holds nothing back in this wry and refreshingly inventive novel about violence, sister rivalries and simply staying alive." —IDRA NOVEY, author of THOSE WHO KNEW