The God Gene: How Faith Is Hardwired into Our Genes (Paperback)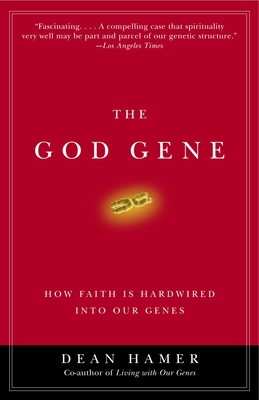 $19.75
This item is not currently available to order.
Description
---
The overwhelming majority of Americans believe in God; this conviction has existed since the beginning of recorded time and is shared by billions around the world. In The God Gene, Dr. Dean Hamer reveals that this inclination towards religious faith is in good measure due to our genes and may even offer an evolutionary advantage by helping us get through difficulties, reducing stress, preventing disease, and extending life. Popular science at its best, The God Gene is an in-depth, fully accessible inquiry into cutting-edge research that can change the way we see ourselves and the world around us. Written with balance, integrity, and admirable scientific objectivity, this is a book for readers of science and religion alike.
About the Author
---
DR. DEAN HAMER is a preeminent geneticist and author of The Science of Desire, a New York Times Notable Book of the Year, and Living with Our Genes. Together with his scientific collaborators at the National Cancer Institute at the National Institutes of Health, he has authored more than one hundred articles for popular and academic science journals. His television appearances include Good Morning America, Dateline, Oprah, the national news shows, and documentaries for HBO, PBS, and the Discovery Channel. Dr. Hamer received his Ph.D. from Harvard University and is the recipient of numerous awards, including the Ariens Kappers Award for Neurobiology.
Praise For…
---
"Fascinating. . . . A compelling case that spirituality very well may be part and parcel of our genetic structure." –Los Angeles Times"Hamer ably narrates his quest to identify a gene that strongly correlates with self-transcendence. . . . Persuasive." –The Washington Post Book World "Hamer weaves a fascinating fabric of mysticism, culture, consciousness, and biochemistry . . . rife with history and multidisciplinary tidbits. . . . Enlightening." –Seed"Challenges some basic assumptions we may have and certainly goads us into reflection about human nature." – The News & Observer