The Here and Now (Hardcover)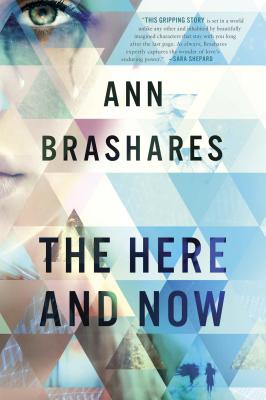 Email us for price & availability: info@oblongbooks.com
Special Order - Subject to Availability
Description
---
From the #1 New York Times bestselling author of the Sisterhood of the Traveling Pants series, The Here and Now is an epic star-crossed romance about a girl who might be able to save the world . . . if she lets go of the one thing she's found to hold on to.

Follow the rules. Remember what happened. Never fall in love.
 
The world Prenna James comes from is in ruins. She and the others who escaped are here to prevent humanity's destruction. But if they don't follow The Rules, everything that matters will be gone: Friends. Families. Dreams. Love. 

Ethan Jarves can never know Prenna's secret. That she's not from another place. 

She's from another time. 


"This gripping story is set in a world unlike any other and inhabited by beautifully imagined characters that stay with you long after the last page." – Sara Shepard, bestselling author of Pretty Little Liars

"An appealing romantic thriller . . . [also] a potent reminder that we inherit the future we buy with our actions today."—Cassandra Clare for the New York Times Book Review

"Fast-paced, gripping, and romantic."—Publishers Weekly 

"Lightning-paced . . . like a cinematic blockbuster."—Kirkus Reviews  
 
"The Here and Now could just as easily sit among the time-travel sci-fi, coming-of-age, or romantic thrillers of YA. Honestly, even though I really don't know how to categorize it, I loved it."—Happily Ever After/USA Today
About the Author
---
Ann Brashares is the #1 New York Times bestselling author of the Sisterhood of the Traveling Pants series, The Whole Thing Together, The Here and Now, 3 Willows, The Last Summer (of You & Me), and My Name Is Memory. She lives in New York City with her family. 

Visit Ann online at AnnBrashares.com and follow @AnnBrashares on Twitter.
Praise For…
---
"This gripping story is set in a world unlike any other and inhabited by beautifully imagined characters that stay with you long after the last page." – Sara Shepard, bestselling author of Pretty Little Liars

"[A]n appealing romantic thriller, 'The Here and Now' also serves as a potent reminder that we inherit the future we buy with our actions today." --Cassandra Clare for The New York Times Book Review
 
"The Here and Now could just as easily sit among the time-travel sci-fi, coming-of-age, or romantic thrillers of YA. Honestly, even though I really don't know how to categorize it, I loved it — and the ending made me hope (really, really hope!) for a sequel."—Happily Ever After/USA Today

"From the author who brought us The Sisterhood of the Traveling Pants come the gripping page-turner about a girl who's willing to risk it all for love and the fate of the world." --Teen Vogue 
 
"Lightning-paced . . . like a cinematic blockbuster."—Kirkus Reviews  

"Compelling."—School Library Journal

"Best known for her Sisterhood of the Traveling Pants books, Brashares forays into science fiction in this fast-paced, gripping, and romantic novel about a girl from a future that seems eerily possible. . . her fans will be happy to find that her prose is as resonant and realistic as ever." --Publishers Weekly
 
"Brashares . . . builds on her adroit adolescent characterization and ear for teen dialogue and transports them into an exciting time-travel adventure complete with murderers to thwart and mysteries to solve."--Booklist 

"Skillfully weaving together time travel, planetary devastation, climate change, plague and young love, the author creates an engaging, adventurous tale." --Shelf-Awareness

"Brashares' era-hopping race against time is fast paced and heady...perfect for fans of Brasahres' earlier work, as well as Veronica Roth's Divergent." --RT Book Reviews

"Fantasy and science fiction fans will enjoy the intricate cause-and-effect Brashares defines in her story. Filled with suspense and spiced with romance, the story will satisfy any reader who appreciates a well told story. [Brashares] is at the top of her game." --Examiner.com

"A satisfying mix of science fiction and romance." --Children's Literature
Coverage from NPR
We appreciate your continued support!
If you would like to make a donation to help us through CLICK HERE.