Don't Even Think About It (Hardcover)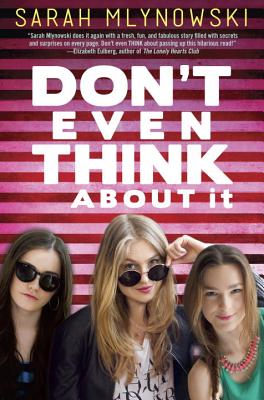 Email us for price & availability: info@oblongbooks.com
Special Order - Subject to Availability
Description
---
A smart, sassy contemporary teen novel full of romance, secrets, and ESP from the author of Ten Things We Did (And Probably Shouldn't Have) and Bras & Broomsticks!

We weren't always like this. We used to be average New York City high school sophomores. Until our homeroom went for flu shots. We were prepared for some side effects. Maybe a headache. Maybe a sore arm. We definitely didn't expect to get telepathic powers. But suddenly we could hear what everyone was thinking. Our friends. Our parents. Our crushes. Now we all know that Tess is in love with her best friend, Teddy. That Mackenzie cheated on Cooper. That, um, Nurse Carmichael used to be a stripper. 

Since we've kept our freakish skill a secret, we can sit next to the class brainiac and ace our tests. We can dump our boyfriends right before they dump us. We know what our friends really think of our jeans, our breath, our new bangs. We always know what's coming. Some of us will thrive. Some of us will crack. None of us will ever be the same. 

So stop obsessing about your ex. We're always listening.


"Smart and frequently hilarious."--Publishers Weekly, starred

"A tour-de-force comic narration that will leave you gasping in awe—if you ever catch your breath from laughing."—E. Lockhart, author of We Were Liars

"Hilarious, moving, and utterly ingenious."—Robin Wasserman, author of The Book of Blood and Shadow and The Waking Dark
 
"Sarah Mlynowski does it again with a fresh, fun, and fabulous story . . . Don't even THINK about passing up this hilarious read!" —Elizabeth Eulberg, author of The Lonely Hearts Club
 
"Funny, realistic, heartfelt, satiric, and unpredictable." —Ned Vizzini, New York Times bestselling author of It's Kind of a Funny Story

A 2015 Tayshas High School Reading List title
2017 Louisiana Young Readers' Choice Awards Honor Book
2015-2016 Teen Readers' Choice Stellar Award

About the Author
---
SARAH MLYNOWSKI is the author of the Magic in Manhattan and Whatever After series, as well as Don't Even Think About It, Gimme a Call, Ten Things We Did (and Probably Shouldn't Have), Milkrun, and more. Her books have been translated into more than twenty languages. Sarah was born in Montreal but lives and writes in New York City.

You can visit her online at sarahm.com and follow @sarahmlynowski on Twitter and Instagram.
Praise For…
---
"A tour-de-force comic narration that will leave you gasping in awe — if you ever catch your breath from laughing." —E. Lockhart, author of We Were Liars

"Hilarious, moving, and utterly ingenious." —Robin Wasserman, author of the Book of Blood and Shadow and the Waking Dark

"Sarah Mlynowski does it again with a fresh, fun, and fabulous story filled with secrets, surprises, and a sixth sense. Don't even THINK about passing up this hilarious read!" —Elizabeth Eulberg, author of the Lonely Hearts Club

"Finally, someone understands that if you develop powers as a teenager, it's not the government you have to watch out for—it's your best friends. Funny, realistic, heartfelt, satiric, and unpredictable." —Ned Vizzini, New York Times bestselling author of It's Kind of a Funny Story

"Mlynowski continues to make comedy look easy in this smart and frequently hilarious novel, which features a collective first-person narrative that fits the premise like a glove... Filled with heartbreak, hilarity, and some brutal truths, Mlynowski's novel will leave readers thinking about the gaps between our private and public selves and the lies we tell others and ourselves." --Publishers Weekly, starred review

"Mlynowski hits all the right notes. There's enough levity to keep readers laughing, but this is far from fluff--the real-life commotions are engaging, and the characters are fully developed. The story is funny, sweet and true to life, as readers have come to expect from Mlynowski. Her teens are emotional without being drama queens, amusing but not twee. A perfect read." --RT Book Reviews

"Readers will hope for a sequel with amped-up Espie secrets and scandals. Hand to fans of Cecily von Ziegesar's all-seeing Gossip Girl and Jenny Han and Siobhan Vivian's Burn for Burn revenge books. Now, flu shot, anyone?" --Booklist

"The multiple characters are remarkably distinctive, and the plot moves along briskly, combining family drama, complicated romance and friendship turmoil into a compelling view of teen dynamics." --Kirkus Reviews

"Mlynowski writes teen protagonists with heart and depth—authentically illustrating the trials and tribulations of the high school experience, rather than making a mockery out of adolescent egocentrism. This is a fun read, recommended for fans of contemporary fiction." --School Library Journal

A 2015 Tayshas High School Reading List title

2017 Louisiana Young Readers' Choice Awards Honor Book

2015-2016 Teen Readers' Choice Stellar Award
We appreciate your continued support!
If you would like to make a donation to help us through CLICK HERE.