Local Breads: Sourdough and Whole-Grain Recipes from Europe's Best Artisan Bakers (Hardcover)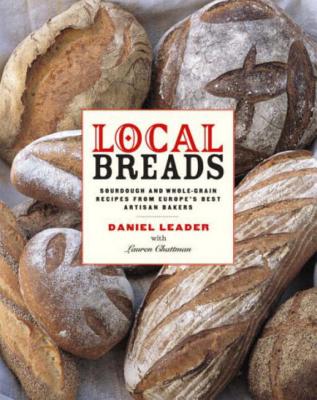 Description
---
Recipes from the back rooms and basement bakeries that produce Europe's best breads.
When Daniel Leader opened his Catskills bakery, Bread Alone, twenty years ago, he was determined to duplicate the whole-grain and sourdough breads he had learned to make in the bakeries of Paris. The bakery was an instant success, and his first book,
Bread Alone
, brought Leader's breads to home kitchens. In this, his second book, Leader shares his experiences traveling throughout Europe in search of the best artisan breads. He learned how to make new-wave sourdough baguettes with spelt, flaxseed, and soy at an organic bakery in Alsace; and in Genzano, outside of Rome, he worked with the bakers who make the enormous country loaves so unique that they have earned the Indicazione Geografica Protetta (IGP), a government mark reserved for the most prized foods and wines. Leader's detailed recipes describe every step that it takes to reproduce these rare loaves, which until now were available strictly locally.
About the Author
---
Daniel Leader is the founder of Woodstock, New York's legendary bakery, Bread Alone, and author of Bread Alone, which won an International Association of Culinary Professionals Cookbook Award. He lives in the Catskills.
We appreciate your continued support!
If you would like to make a donation to help us through CLICK HERE.