Baseball Haiku: The Best Haiku Ever Written about the Game (Hardcover)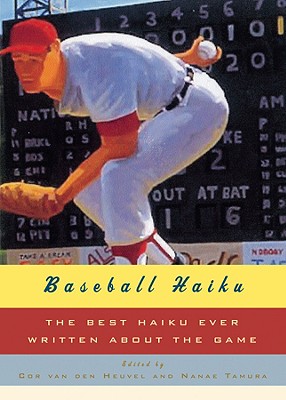 $21.95
This item is not currently available to order.
Description
---
Presenting more than two hundred of the greatest haiku ever written about the game.
There are moments in every baseball game that make fans catch their breath: the pause while a pitcher looks in for the sign, the moment a cocksure rookie gets picked off first, or the instant a batter lashes a game-winning homer into the night sky, just before the sell-out crowd explodes onto its feet. Haiku captures these moments like no other poetic form, and Baseball Haiku captures the sights, the sounds, the smells, and the emotions of the game like no previous collection.
Some of the most important haiku poets of both America and Japan are featured in this anthology; including Jack Kerouac, a longtime baseball fan who pioneered English-language haiku; Alan Pizzarelli, one of the top American haiku and senryu poets of the last thirty years; and Masaoka Shiki, one of the four great pillars of Japanese haiku—a towering figure—who was instrumental in popularizing baseball in Japan during the 1890s.
With over two hundred poems spanning more than a century of ball playing, Baseball Haiku reveals the intricate ways in which this enduring and indelible sport—which is played on a field, under an open sky—has always been linked to nature and the seasons. And just as a haiku happens in a timeless now, so too does Baseball Haiku evoke those unforgettable images that capture the actions and atmospheres of the national pastime: each poem resonates like the lonely sound of cleats echoing in the tunnel as a grizzled veteran leaves his final game.
The largest collection of haiku and senryu on baseball ever assembled, Baseball Haiku is an extraordinary treasure for any true baseball fan.
About the Author
---
Nanae Tamura has been writing haiku for more than two decades, learning from Tsuda Kiyoko, a disciple of Yamaguchi Seishi and Hashimoto Takako. For the past twelve years she has been a columnist for the haiku magazine Shiki Shimppo (The Shiki Newsletter) and she was part of the team of translators that created "If Someone Asks…Masaoka Shiki's Life and Haiku. Born in Kyoto, she now lives in Matsuyama, Ehime.

The editor of The Haiku Anthology, Cor van den Heuvel is an award-winning haiku poet living in New York City.
Praise For…
---
Cor van den Heuvel is the most important anthologist of haiku composed in English in North America.
— Japan Times

Generous, irreplaceable…It's an eye-opener and a who's-who of haiku today.
— Providence Sunday Journal

If you are at all interested in haiku, you want to own this book. It is simply the best, most extensive collection of English language haiku in existence, and a joy to read.
— Modern Haiku

An exceptional selection of English-language haiku at its finest.
— Library Booknotes