Saving Gotham: A Billionaire Mayor, Activist Doctors, and the Fight for Eight Million Lives (Hardcover)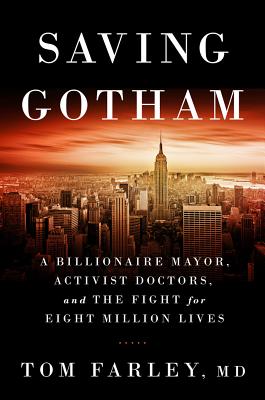 $30.75

Available in our Warehouse: Usually Ships in 3-8 Days
Description
---
The inside story of the most audacious public health campaign of the twenty-first century.
In 2002, a dynamic doctor named Thomas Frieden became health commissioner of New York City. With support from the new mayor, billionaire Michael Bloomberg, Frieden and his health department team prohibited smoking in bars, outlawed trans fats in restaurants, and attempted to cap the size of sodas, among other groundbreaking actions. The initiatives drew heated criticism, but they worked: by 2011, 450,000 people had quit smoking, childhood obesity rates were falling, and life expectancy was growing.
Saving Gotham is the behind-the-scenes story of the most controversial—and successful—public health initiative of our time. Thomas A. Farley, MD, MPH, who succeeded Frieden as health commissioner, introduces a team of doctors who accepted the challenge of public health: to care for each of New York City's eight million inhabitants as their own patients. The biggest threats they faced were not cholera or chemical toxins or lack of medical care but instead habits like smoking and unhealthy eating. As these doctors pressed to solve these problems, they found themselves battling those who encouraged those habits, and they reshaped their own agency for a different sort of fight.
Farley shows what happens when science-driven doctors are given the political cover to make society-wide changes to protect people from today's health risks—and how industries exploit legislatures, the courts, the media, and public opinion to undermine them. With Washington caught in partisan paralysis and New York City's ideas spreading around the world, Saving Gotham demonstrates how government—local government—can protect its citizens and transform health for everyone.
About the Author
---
Tom Farley, MD, MPH, served as an epidemic intelligence service officer with the Centers for Disease Control and Prevention and was the commissioner of the New York City Department of Health and Mental Hygiene before becoming the health commissioner for the City of Philadelphia.
Praise For…
---
In recent years, New York City adopted a series of bold initiatives to reduce smoking, to combat childhood obesity, and otherwise to promote public health. Tom Farley was there, and he tells the gripping inside story. Think that a public heath department can't save lives? Think again!
— Cass R. Sunstein, Robert Walmsley University Professor, Harvard University, and coauthor of Nudge

For twelve years, Mike Bloomberg was mayor of New York City, and the two Toms (Frieden and Farley) ran the health department. The brash, fearless trio took on Big Tobacco and salt- and sugar-pushers to make New York the healthiest city in America, with a life expectancy three years longer than the nation's. This great book tells you how they did it.
— Laurie Garrett, Pulitzer Prize-winning writer and author of I Heard The Sirens Scream: How Americans Responded to the 9/11 and Anthrax Attacks

There is a reason why people in New York City live longer than average Americans, and this book tells you why. Tom Farley has written a fast-paced chronicle of those exciting years and recounts how a mayor who didn't have to worry about raising funds for his campaigns told his health commissioners to think big and save lives.
— Richard Besser, MD, chief health and medical editor, ABC News

As mayor of NYC, Michael Bloomberg
showed the world that an enlightened leader can tremendously improve the health
and well-being of his constituents. In this riveting book, Dr. Farley uses his
experiences as a member of Bloomberg's public health team to describe the
challenges and opposition faced at every step.
— Walter Willett, MD, DrPH, chair, Department of Nutrition, Harvard T.H. Chan School of Public Health

In Saving Gotham the former New York City health commissioner provides the inside story on how the city led the nation by dramatically reducing smoking rates, eliminating artificial trans fats from restaurants, getting calorie information on restaurant menus, and reducing soda consumption and obesity. Those efforts are saving thousands of lives every year.

— Michael F. Jacobson, PhD, executive director, Center for Science in the Public Interest