101 Two-Letter Words (Hardcover)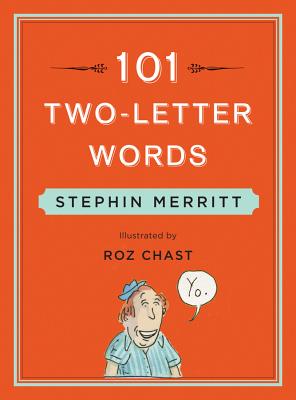 Description
---
A one-of-a-kind celebration of the 101 two-letter words allowed in Scrabble.
Rolling Stone
has called singer-songwriter Stephin Merritt of the Magnetic Fields "the Cole Porter of his generation";
O, The Oprah Magazine
has hailed cartoonist Roz Chast as "the wryest pen since Dorothy Parker's." Together they have crafted a wonderfully witty book that is sure to prove useful to Scrabble players and Words With Friends addicts—and to delight anyone in thrall to the weirder corners of the English language.
With the mordant wit and clever wordplay of Edward Gorey or Shel Silverstein, Stephin Merritt has written an original four-line rhyming poem for each of the 101 two-letter words included in The Official Scrabble Players Dictionary. Here are poems about familiar words (such as at, go, hi, no, and up) as well as obscure ones (such as aa, ka, oe, qi, xu). And every one of the 101 poems is accompanied by a full-color illustration by the incomparable cartoonist Roz Chast.
101 Two-Letter Words is perfect for any language lover or Scrabble player (it may even improve your score!).
About the Author
---
With the Magnetic Fields, Stephin Merritt has written, produced, and recorded ten albums, including 69 Love Songs, which was named one of the 500 best albums of all time by Rolling Stone. Merritt has performed as part of Lincoln Center's "American Songwriters" series and at BAM's "Next Wave of Song," and he has composed the score for the Academy Award–nominated film Pieces of April and for Eban and Charley.

Roz Chast has been a regular contributor to The New Yorker since 1978. Her cartoons have been collected in What I Hate, Theories of Everything, and The Party After You Left. She also illustrated The Alphabet from A to Y, with Bonus Letter Z, the best-selling children's book by Steve Martin. Her most recent book is Can't We Talk About Something More Pleasant?, a memoir about her parents.
Praise For…
---
A fun little book.
— Minneapolis Star Tribune

Merritt is a gifted poet.
— Sarah Larson - New Yorker

Delightfully whimsical.
— David Ulin - Los Angeles Times

Pretty irresistible.
— David Daley - Salon

Vaguely Seussian.
— Margaret Eby - Brooklyn Magazine

Droll…pithy…witty.
— Dan DeLuca - Philadelphia Inquirer

When I have no Scrabble move,

I really cannot bear it.

From aa to za, help has arrived—

Why, thank you, Stephin Merritt!

— Lemony Snicket, best-selling author of A Series of Unfortunate Events

This little book of tiny words

by Stephin Merritt is superb;

it's funny and it's useful too.

(This is the Neil Gaiman blurb.)

— Neil Gaiman, best-selling author of The Ocean at the End of the Lane

I love this book of Scrabble twos,

with art and wit for mi and ye;

so now please do the thousand threes,

from aah to zzz.

— Stefan Fatsis, best-selling author of Word Freak

Ha!
— Elif Batuman, author of The Possessed

Oy, ow, my wounded qi! I'll never beat Stephin at Scrabble again. Wo(e) is me.
— Emma Straub, author of The Vacationers