Triumph and Tragedy in Mudville: A Lifelong Passion for Baseball (Paperback)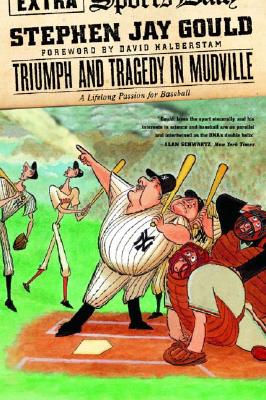 $24.95

Available in our Warehouse: Usually Ships in 3-8 Days
Description
---
"Scientific analysis intersects with flat-out fandom. [Gould] could write, he was funny, and he loved, loved baseball."—Booklist
Science meets sport in this vibrant collection of baseball essays by the late evolutionary biologist.Among Stephen Jay Gould's many gifts was his ability to write eloquently about baseball, his great passion. Through the years, the renowned paleontologist published numerous essays on the sport; these have now been collected in a volume alive with the candor and insight that characterized all of Gould's writing. Here are his thoughts on the complexities of childhood streetball and the joys of opening day; tributes to Mickey Mantle, Babe Ruth, and lesser-knowns such as deaf-mute centerfielder "Dummy" Hoy; and a frank admission of the contradictions inherent in being a lifelong Yankees fan with Red Sox season tickets. Gould also deftly applies the tools of evolutionary theory to the demise of the .400 hitter, the Abner Doubleday creation myth, and the improbability of Joe DiMaggio's 56-game hitting streak.
This book is a delight, an essential addition to Gould's remarkable legacy, and a fitting tribute to his love for the game.
About the Author
---
Stephen Jay Gould (1941-2002) was the Alexander Agassiz Professor of Zoology and Professor of Geology at Harvard University. He published over twenty books, received the National Book and National Book Critics Circle Awards, and a MacArthur Fellowship.

David Halberstam (1934-2007) was an American Pulitzer Prize-winning journalist and author known for his early work on the Vietnam War, his work on politics, history, the Civil Rights Movement, business, media, American culture, and his later sports journalism.
Praise For…
---
Gould is at his best when he uses his critical powers and statistical acumen to challenge speculation.
— American Scientist

A treat for any fan.
— Atlanta Jewish News

A masterpiece in its own right.
— Blue Ridge Business Journal

A jovial and eloquent fan of the game...[Gould] displays an appreciation for the game that goes beyond bell curves and bar charts.
— Chicago Tribune

A triple treat from the mind of a passionate fan, an incisive thinker, and a lucid writer.
— Mark E Hayes - Elysian Fields Quarterly

In this fine collection, Gould...is part scientist, part detective and, of course, all baseball fan.
— Richard A Somma - Free Lance-Star [Fredericksburg, VA]

Makes it clear that [Gould] was as avid and knowledgeable about baseball as he was about paleontology.
— Michiko Kakutani - New York Times

Intellectual Windex for what David Wells splattered on us earlier this spring.
— Alan Schwarz - New York Times Book Review

A winning combination of personal memoirs..., essays about players the author admired, scientific inquiries, and book reviews.
— Sacramento Bee

Gould wrote as enthusiastically about baseball as he did about evolution....his best...essays on the game are gathered [here].
— John Curtis - San Diego Union-Tribune

It is the lyrical...pieces in this collection that resonate most powerfully.
— Jonathan Mahler - Washington Post Book World